Welcome to your Weekly Digest!
First up this week is fresh evidence of the markets losing all touch with reality or basic common sense.
You may recall (or maybe not) that I divested from a lot of my stocks last year. I retained only a small, highly select group of companies in sectors like healthcare, pharmaceuticals, gold/silver mining, and, more recently, cryptocurrency banks and mining firms that are already exploding higher. Basically, industries that will do well when the market tanks.
I believed then, as now, that we are in a bubble, and that sooner rather than later, we will all hear a sudden, violent pop!
Well, two statistics in the news this week reaffirmed this belief.
The first: Just three months into 2021, funding for initial public offerings (IPOs) of special purpose acquisition companies, or SPACs, surpassed the $83.4 billion the sector raised in all of 2020. 
SPACs are the biggest trend on Wall Street right now. They are basically shell companies. They have no assets or products of any kind. Usually, they're started by big-name investors, like Richard Branson, for the sole purpose of raising money through an IPO so they can buy another company.
Here's the thing about SPACs: The people buying into the IPO do not know what the eventual acquisition target will be. As such, they're often called "blank check companies."
The advantage of using a SPAC rather than a traditional IPO is that the reporting requirements are less stringent. So, they're a handy way of getting your company onto an exchange without having to go through all the bother of, you know, proving you have a sound business model or can actually make any money.
Case in point is electric and hydrogen-powered truck maker Nikola. The SPAC through which Nikola came to market was trading in the $10 range for the longest time…and then, suddenly, it announces it will be the vehicle for Nikola to hit Wall Street and the stock quickly sprints to $94.
At one point it had a higher market cap than Ford. It even topped the chart on Robinhood, the trading app popular with younger retail investors. Then the company was hit with accusations that it had fabricated some of its technological achievements, its CEO had to resign, and now it's back down around $16…demonstrating that these SPACs can be risky business.
The other statistic that caught my eye was the boom in penny stocks.
Penny stocks refer to more than 10,000 tiny companies whose shares are worth too little, often pennies or fractions of a penny, to trade on any major exchange. So instead, they're offered on lightly regulated over-the-counter markets, or OTCs. This is a world rife with scam artists and con men. Think Jordan Belfort, the charlatan played by Leonardo DiCaprio in The Wolf of Wall Street. He scammed people through penny stocks.
Despite the highly dubious nature of this marketplace, in February there were 1.9 trillion transactions on OTC markets, an increase of more than 2,000% from a year earlier, according to the Financial Industry Regulatory Authority. Yep, 2,000%. Not a typo.
A lot of that, I know from texts my son sends me, are recommendations teens and 20-somethings are passing around on message boards and social media apps like TikTok, Twitter, and Reddit. This is going to end very, very badly for them.
Like the SPACs, this spike in OTC trading is an indicator of rampant, unhinged speculation, fueled largely by novice investors trying to make a quick buck in an economy ravaged by pandemic-related job loss.
To me, all of this looks very much like the days leading up to the 1929 crash. My point is, the market may be booming, but I'm happy I'm not playing…
***
I'm about to become a miner…an Ethereum miner, that is.
Ethereum is the No. 2 cryptocurrency after bitcoin. Like bitcoin, it's created when specially built computers solve complex math problems, in a process called mining.
A couple years ago, I actually built several crypto miners from various computer parts so that I could understand the mining process myself. Now, with prices of Ethereum near historic highs, I thought I'd get back into the process in a more serious way. (The reason I'm opting for Ethereum over bitcoin is that bitcoin mining rigs are crazy expensive, massive consumers of power, and they're freakin' loud!)
This week, I finally got the last of the components I need to build my new mining rig. Here's what they look like at the moment: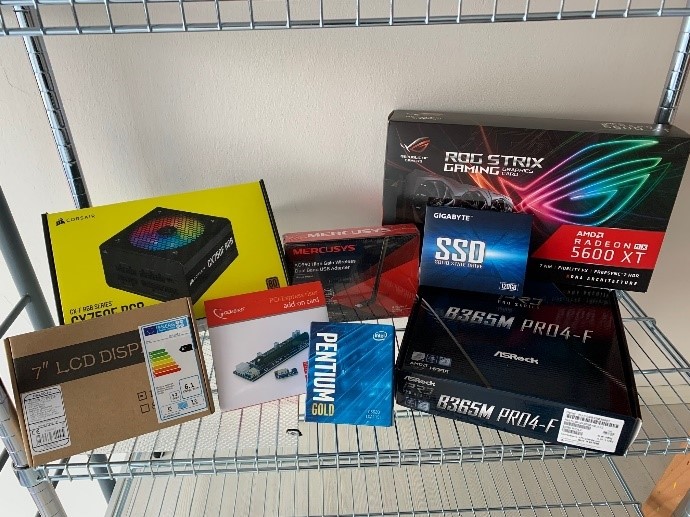 My only problem is I have just one graphics card (the big box top right). With crypto-mining the more, the merrier.
The issue is that right now graphics cards are sold out everywhere because mining has become so popular, and because lots of gamers are investing in new computers while they're trapped in lockdown. I have had two orders canceled because the merchants realized they can no longer get the cards.
Still, I'm excited to press forward with building my mining rig. With Ethereum at $1,850, that one graphics card will mine about $150 per month. Now, if only I can find five more cards…
I plan to record a video of my build so you can see the process in action. Stay tuned for that.
***
Finally, this week, vaccine passports.
This topic has been discussed for almost as long as the coronavirus has been around. But now, as vaccination programs ramp up around the world, it's getting serious.
As we speak, various companies and organizations are racing to develop a standardized app that can show all your various COVID-related health data, from vaccines to tests.
One of the most high-profile is Travel Pass. That's been developed by the International Air Transport Association, the global trade association for airlines, and is already being tested by major carriers like Emirates. Other prominent options include Common Pass and Verifly. Those are backed by United and American, respectively.
I'm not sure any of these emerges as the definite option for global travel. My suspicion is that national governments will start rolling out an agreed upon, common option so that frequent travelers such as yours truly won't end up with 50 different COVID passport apps on our phone. Still, the fact that the testing of these apps is so far along indicates that we're getting closer to that light at the end of the tunnel.
So, hold fast. We're almost there. Travel will be back soon.
That's one of the reasons I'm so excited to be speaking at International Living's online Ultimate Escape Overseas Event next weekend.
If you dream of making a part-time or full-time move overseas…well, soon you'll be able to make that dream a reality. Join me and the other speakers and we'll help you work out all the details, from finding the perfect spot for you to getting your visas, healthcare, finances, etc. in order.
Trust me, whatever questions you have, about whatever destination you have in mind, my colleagues on the ground in Portugal, Panama, Malaysia, Vietnam, Costa Rica, Belize, Mexico, Italy, and a plethora of other countries around the world can give you all the advice and info you need. (Get all the details of the event here.)
And that brings me to the end of this edition of our Weekly Digest. As always, send me an email anytime at jopdyke@globalintelligenceletter.com. And enjoy the rest of your Sunday!