Welcome to your Sunday digest…my weekly breakdown of the things we're thinking about and talking about in the Global Intelligence world.
I'd like to begin this week's edition by wishing you a Happy Fourth of July!
After the difficult past year of COVID restrictions, I think we all deserve the opportunity to rest, relax, and enjoy some quality time with our loved ones.
As an expat, I'll be celebrating America's Independence Day in a rather nontraditional manner. On the agenda for me is hanging out with an American friend from Harvard Medical School, who's recently returned to Prague. I also made myself a few treats from home to (sort of) celebrate my American-ness.
Recently, I stumbled across a store selling nothing but British and American products that are absent from the standard Czech supermarkets. Perhaps the best find for me was Rice Krispies and a bag of marshmallows. Call me a 5-year-old, but I love me some Rice Krispies Treats. Here's the batch I ginned up for today: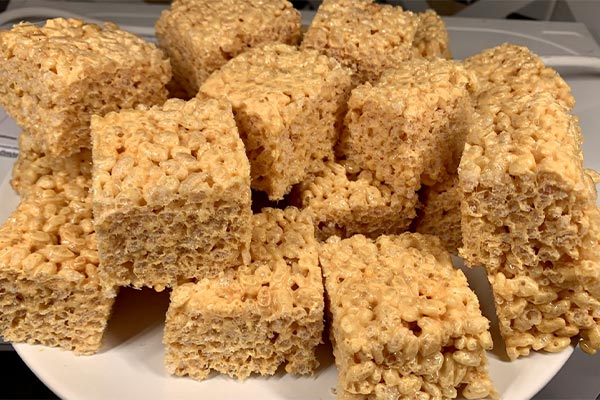 OK, Gordan Ramsay, I ain't. But they taste good. Divine, in fact. I hope you similarly treated yourself to something special for the occasion.
But enough waffling…let's move on to today's first story: Why you may soon be able to buy bitcoin from your local bank or credit union.
Recently, digital asset management company NYDIG and payments giant NCR sealed a deal that will enable more than 650 community banks in the U.S. to offer their clients cryptocurrency trading. These 650 banks span the country, from First Citizens Bank in North Carolina to Bay Federal Credit Union in California.
Under the deal, NCR is going to build crypto-trading apps for the banks. It seems the banks have grown tired of watching customers transfer out funds to crypto exchanges. So, they've decided to try and grab a slice of the crypto pie.
Basically, NCR will handle all the back-office processes of buying, selling, and holding the crypto, while the banks can make money by charging transaction fees.
Overall, this is a positive development for customers.
Many of the big exchanges where people go to trade crypto, such as Coinbase, charge relatively high fees. This deal should introduce more competition to the market, ultimately lowering fees for everyone.
Moreover, this story is just further proof that crypto has gone mainstream. It marks another milestone on bitcoin's emergence as a legitimate asset.
***
From positive news about bitcoin to less hopeful news about inflation.
I've been warning for many, many months about the return of real inflation…in large part due to the government's continued use of debt to finance massive spending.
Now, a new factor is adding to inflation concerns in America: drought.
About 45% of the U.S. is currently experiencing some kind of water shortage, while almost 10% of the country is in the grip of "exceptional drought"—the most severe designation experts use.
Severe water shortages mean farmers have to pay a premium for supplementary water, or simply let crops die or fields go unplanted.
This will have impacts that filter through the agricultural supply chain for months and even years. Already, the price of feed grains has hit its highest level since 2013. And just this past week, cereal juggernaut General Mills announced that it's raising prices across nearly all its grocery categories around the world because it faces its highest costs in a decade.
Ultimately, what this means is that the prices of products like beef, pork, milk, and grain—all of which have already risen considerably in recent months—will continue to increase…further exacerbating the inflation problem.
Alas, it seems that this era of high inflation will be with us for some time to come.
***
Lastly this week, is Robinhood about to do something…positive?
Regular readers will know that I distain the stock-trading app Robinhood.
It has gamified stock trading in a way that I feel encourages speculation, particularly among younger, less-experienced investors. (Indeed, the company just recently agreed to pay a nearly $70 million fine to resolve allegations from regulators that it engaged in practices such as approving risky trading strategies for ineligible investors.)
Moreover, the app delivers a truly terrible investment experience…offering access to far fewer trading options than superior brokerages such as Schwab and Fidelity.
Despite all this, I have to tip my cap to Robinhood…if only for one small, isolated reason.
This week, reports emerged that the company may be about to do something long overdue—improve access for retail investors like you and me to initial public offerings (IPOs).
This has been a bumper year for IPOs. So far in 2021, companies have sold more than $190 billion in stock in U.S.-listed IPOs…already topping the record of $167 billion set just last year.
Retail investors, however, have been cut out of the overwhelming majority of these deals. Traditionally, companies allocate less than 10% of IPO shares to retail investors…and generally, much of that small amount is snapped up by big, wealthy clients of Wall Street banks.
So historically, Main Street has been largely locked out of this profitable realm.
Now, Robinhood hopes to help change this. It is reportedly reserving 35% of shares in its own, upcoming IPO for clients who sign up to its new IPO platform. This is part of a broader industry move. SoFi Technologies and Public Holdings Inc., two Robinhood competitors, are launching similar IPO services.
Personally, I have to applaud these efforts.
Of course, Robinhood is doing this for self-serving reasons. It probably imagines that rolling out its IPO to its client base will boost demand and elevate its stock price on launch.
But if this experiment ultimately proves to Wall Street that retail investors care about IPOs and will sign up for platforms that provide access to high-quality offerings, it may lead to wider industry change.
I'll be paying close attention to see if these new platforms can inject some much-needed fairness into the IPO process.
With that, I'll bid farewell this week. Many thanks for reading. If you have any feedback or questions, please feel free to contact me through the contact form on the Global Intelligence website here
And again, have a wonderful Fourth of July!
---