Don't judge me. I was just a kid. 
But here goes: It was the summer of 1976. I was 10 years old. Sunbeam Bread, the big bread brand where I grew up in South Louisiana, was running a promotion: Every loaf came packed with a free Bicentennial Daze trading card.
My best friend, Jim, and I collected every trading card we could. So, when this new promotion started, he and I would head down to the Kroger on College Drive and look through all the new loaves, seeking the cards we needed to complete the 24-card collection.
And by "look through," I mean rummage through…opening each loaf of bread and rooting around inside until we found a card we needed.
I know, I know, I know. You don't have to tell me.
Like I said֫—I was young and dumb. But, in my defense, it was the 1970s. No one cared about hygiene stuff back then. (While I'm getting transgressions off my chest, we did the same two years later when Pop-Tarts came packaged with football helmet stickers. Feels good to unburden the soul…)
I guess I just like collecting free things that I think might be worth something one day.
Which neatly brings me to the money-transfer app Venmo and the debit card I just applied for. Odd transition, but stick with me.
Venmo recently announced that its card now offers cash-back rewards in the form of cryptocurrency. So, instead of collecting dollars you can collect bitcoin (or Ethereum, Litecoin, or Bitcoin Cash).
I mean, FREE BITCOIN! That's way better than free Bicentennial Daze trading cards!
This is one of the many ways that decentralized finance (DeFi) is invading our daily personal lives. Bitcoin and the blockchain—once derided as a Ponzi scheme and worth nothing—are now showing up everywhere from banking to credit cards to the stock market. Venmo is just the latest example of what's available.
Every time I use my new Venmo card to buy something, Venmo returns to me between 1% and 3% of my purchase in the form of slivers of bitcoin. There isn't a better cash-back plan on the planet as far as I'm concerned.
Free airline miles to upgrade to business class are nice (and I have 850,820 miles on American Airlines at the moment that I still haven't used). But if bitcoin reaches the levels I expect it to reach this decade, the pieces of bitcoin I collect are going to be worth a pretty penny.
Let's use an example…
I mentioned in a dispatch last week that AMC Theaters will soon accept bitcoin as payment (and I noted that it's borderline psychotic to spend bitcoin on a consumable asset). But instead of spending bitcoin on a movie and popcorn, let's say you used a Venmo debit card and received bitcoin as cash back.
Well, in Los Angeles, taking a family of four to an AMC Theater for a movie and concessions will lighten your wallet by about $65. From that you will earn $0.65 in bitcoin (1% cash back). If bitcoin reaches seven figures later this decade, as I fully expect, that tiny nugget of bitcoin is worth around $12.
Now, granted, $12 isn't much. But that's just one transaction.
Imagine all the transactions you make in a month—groceries, gas, haircuts, etc. That adds up.
The Bureau of Labor Statistics estimates that the typical American household spends about $36,500 on expenses that one could legitimately pay for with a credit/debit card. Assuming you did that, and assuming an average cash back of 2% (Venmo pays 3% cash back on groceries, 2% on bills and utilities, and 1% on everything else)…a single year of spending would generate about $730 worth of bitcoin.
And if bitcoin does indeed hit seven figures, those little slivers of crypto you accumulate for a single year are worth more than $14,000. Spread across several years and, well, you're talking about real money.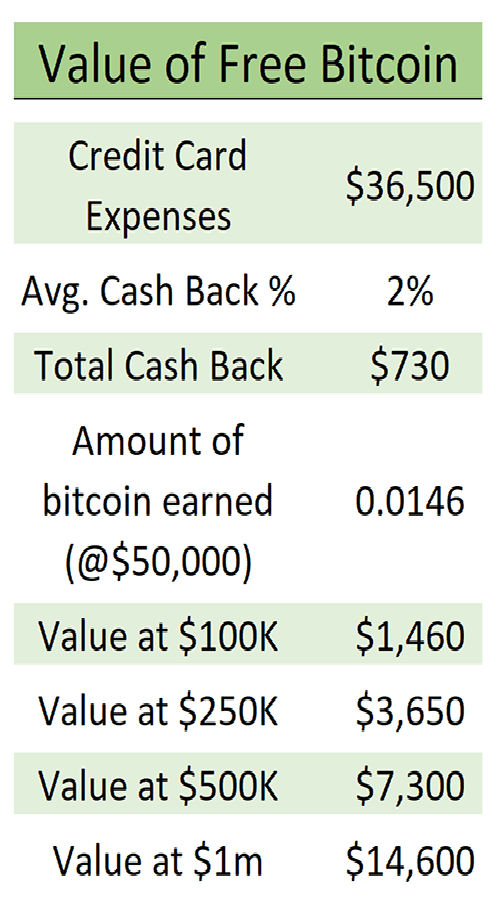 That's why when I read about Venmo's new bitcoin cash-back feature, I immediately requested a card. My plan: Run all my recurring, monthly expenses through my Venmo card: Netflix, HBO, the storage unit I have in the U.S., etc.
Every month, with no effort or expense on my part, I will be collecting free bitcoin.
And one day, when bitcoin hits seven figures, I will open my Venmo account and see that I have a bunch of bitcoins worth many oodles of dollars. All a byproduct of the normal, everyday spending I do in my life.
Accumulating a bit of wealth couldn't be simpler.
And it's far more hygienic than rooting around in loaves of Sunbeam bread…