Welcome to your Sunday digest…my weekly breakdown of the things we're thinking about and talking about in the Global Intelligence world.
This week we begin with a public service announcement: Tell Alexa to quit sharing your WiFi.
You may have heard this story, but if not, here's the deal.
Since 2018, Amazon Echo smart speakers and Ring security cameras have had the ability to share a slice of your WiFi with your neighbors' Echo and Ring devices. This is part of an Amazon program called Sidewalk.
This functionality has laid dormant for years, but on Tuesday the company activated it—for everyone.
Amazon's goal is to blanket the U.S. with a low-bandwidth WiFi network that it controls. According to the company, this will benefit customers by helping devices stay online when they are outside the range of your home WiFi, or making it easier to set up new devices.
And that may be true.
But if your device is part of the network, you have no control over what data you're helping transmit.
Basically, the company has decided to use your WiFi—that you pay for—to create a private Amazon internet that will blanket American cities…with far too little clarity on what exactly it plans to do with it. And it didn't even ask your permission. (OK, sure, it's probably buried in the terms and conditions somewhere, but morally it's ridiculous to consider that consent for a project of this scale.)
My advice: Turn off Big Brother Bezos' Sidewalk program ASAP.
Here's how you do that. For an Echo device, go to the Alexa app on your phone, tap the "More" icon. Then press "Settings," and "Account Settings." In there, you'll see "Amazon Sidewalk." Change enabled to disabled.
On the Ring app, tap the three bars in the top left to access the menu. The Amazon Sidewalk option can be disabled in the "Control Center."
You will see the option only if you have a Sidewalk-eligible device, such as a third-generation or newer Echo Dot, or second-generation or newer Ring Floodlight Cam.
***
The meme stock phenomenon isn't making headlines anymore, but it sure hasn't gone away.
This trend emerged earlier this year when large numbers of young investors began coordinating their stock market plays on social media platform Reddit. Their goal: to make money while sticking it to short-sellers—investors who make large bets against companies.
Video-game retailer GameStop was the first big beneficiary of this trend. In January, its stock shot up from about $19 per share to about $330. In February, it fell into the $40s, but since then it has remained well above the $100 mark. As of market close Thursday, it was at $220.
Many other stocks have similarly benefited from being targeted by Reddit investors. Just this week, healthcare company Clover Health gained over 100% on Monday and Tuesday, before falling back. Also, on those days shares of e-commerce platform Wish jumped 50% before retreating.
I have mixed feelings about the meme stock trend. On the one hand, I find it somewhat inspiring. I have no problem with young people making coordinated plays in the market this way. Heck, big institutional investors engage in far more insidious market manipulation on a daily basis.
However, I also worry that too many young people are going to lose out with this scattergun approach, and that they are essentially throwing darts rather than picking financially viable companies to own.
And from a more general perspective, it does make you wonder about where, or whether, there's any value in this market.
Overall, the S&P 500 is up a paltry 0.55% in June. In fact, most of the action in the market right now is from meme stocks.
With inflation and U.S. debt soaring, this meme-stock lunacy may indicate that the record, irrational bull market is on its last legs.
***
Speaking of inflation, a quick note.
For months, I've been warning about inflation and predicting it would top 4% to 5% this year.
Well, we're there already. The consumer price index soared 0.6% in May, marking the fourth large gain in a row. This monthly increase means inflation is now at a 13-year high of 5%.
As I've been saying for months, prepare your nest egg for a new era of high inflation.
Check out the investments in our Global Intelligence portfolio, and particularly those from the March issue, for my recommendations in this regard.
***
Finally, as I like to do, I'll end with a note from here in Prague.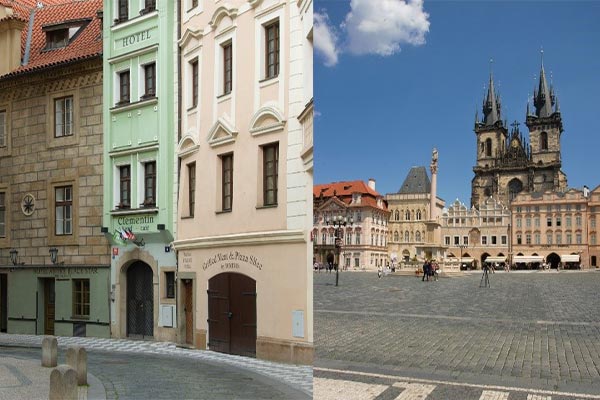 Typically at this time of year, the city is bustling with tourists. They are sure to return soon, but in the meantime, I've been taking the opportunity to explore the city's most famous squares and streets while they're devoid of tourists. It's quite nice, if a tad eerie, to wander virtually alone through places that would normally be packed with hundreds of eager vacationers.
My wanderings aside, this week's update from Prague has a distinctly economic/inflationary bent.
You see, here in the Czech Republic, wages are rising, particularly in the construction, industrial manufacturing, and IT sectors.
The reasons: the rapid recovery of the economy from the pandemic and a chronic shortage of workers.
Sound familiar?
It's exactly what's going on in the States. Companies are raising salaries because they're struggling to fill jobs.
This shows that, despite the Fed's continued assurances, the current high levels of inflation are not a temporary or transitionary phenomenon.
As these wage pressures flow through manufacturing (in the Czech Republic and the U.S. and China and pretty much everywhere), prices are going to rise for you and me.
And they will stay elevated.
Companies don't roll back price increases and workers don't give back raises.
A new, permanent wage structure is taking shape, and it means permanently higher prices going forward for goods and services.
Prepare accordingly.
Many thanks for reading. If you have any feedback or questions, please feel free to contact me through the contact form on the Global Intelligence website here .
I hope you enjoy the rest of your Sunday!