Sun, sea, sand, and…Popeye.
Yep.
Popeye.
In particular, the Robin Williams, live-action movie incarnation of the famous, spinach-eating cartoon sailor always at odds with Bluto and forever pining for skinny-as-dental-floss Olive Oyl.
The movie, made way back in 1980, was filmed in a small cove on the northwest corner of the Mediterranean island of Malta. For the movie, Paramount, the Hollywood production company behind Popeye, built a full-scale coastal village—the cartoonishly ramshackle hamlet of Sweethaven.
And next week, I'm off to Sweethaven—now known as Popeye Village.
See, though the fictional village was only used for a few weeks of filming more than 40 years ago, it still exists as a tourist attraction on the island. So, as part of a 10-day research and reporting trip to Malta, I'm stopping in on Sweethaven because I think it will be fun to see and write about. (And, of course, I will send you a couple of pictures when I'm there.)
That, to me, is one of the true joys of my job: my off-the-trodden-trail adventures give me the opportunity to do some freelance travel writing…an opportunity that's open to everyone if you similarly go off-piste. It's the story of the elephant by way of the trunk.
Strolling the Champs-Élysées or touring the Taj Mahal are certainly worthy pursuits when you're on vacation in Paris or northern India. But after nearly 70 countries (Malta will be #69), and after more than 40 years of globetrotting, I've come to see travel as so much more than hopping on a tour bus for a visit to the obvious.
Frankly, it's the world's odder places that I find much more appealing and interesting. I mean, if pitch a travel story about touring the Hermitage museum in St. Petersburg, Russia (I did; it's beautiful), the reaction is likely to be politely tepid. The Hermitage is one of the world's leading art museums, so it's on everyone's To Do List when they're in St. Petersburg. What I say or write will not be fundamentally different than any other travel writer.
But I tell someone I toured a decommissioned, Cold War-era Soviet submarine base hidden deep inside a mountain and connected to the Black Sea by way of secret, underwater tunnels…well, suddenly, they're much more interested because that's not something they've likely heard about.
It sounds kinda cool (definitely true), mildly creepy (also true), maybe a tad dangerous in a James Bond-ian spy-infiltrating-a-military-base way (not so much, but still…).
Or there was taking the train to a small town in the center of the Czech Republic to visit and write about the Church of Bones, which is exactly what it sounds like. Or the ginormous Buddha atop a mountain—and the sky-train there—on an island near Hong Kong.
Or heading into Lebanon's Bekaa Valley, better known for its former role as a warzone, to write about wineries and vineyards and the emergence of Lebanon's high-end wine industry (honestly: fantastic wines, and this is coming from someone who built a cellar and once owned more than 600 high-end French, Italian, and California wines).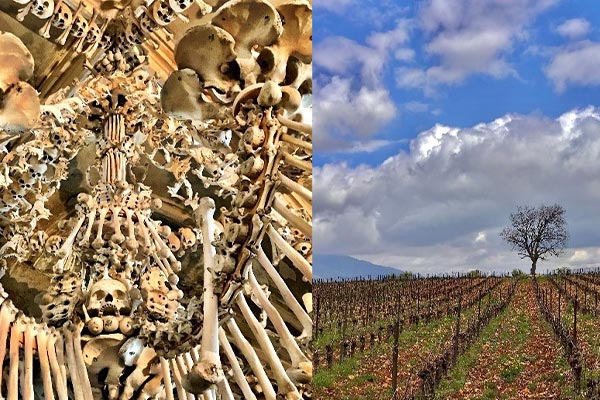 I can't begin to tell you all the truly amazing experiences I've had around the world while off on an assignment. The world is just chockablock with these places and moments, which makes travel writing such an enjoyable pursuit.
I can't tell you how many people I have met in the last decade who have given up corporate jobs or retired to become travel writers. They all start off small, that's just the nature of the game. But soon enough they're visiting and writing about the kinds of places I just love finding out about or discovering on my own amid my travels.
If you've ever had thoughts of travel writing yourself, well I offer this bit of encouragement: You don't need any writing experience to get started. Seriously. You just need to know some tips about putting a pitch and an article together.
Europe is finally reopening. And after more than a year with nothing much to write about, travel outlets—magazines, newspapers, blogs, so many other options—are going to be desperate for fresh content.
That makes now one of the best times I've ever seen for getting your story ideas accepted. Just look for that unique angle—not the same old stories on the same old places.
Sure, go to Paris…but pitch a story on a walking and tasting tour of the best cheese shops. Or go to Ireland…but pitch a story on a coastal drive and the quaint B&Bs of County Donegal way up in the far north of the country.
In short, tell me about the trunk…not the elephant.