"What do you miss? What can I send you?" my friend asked as we wrapped up a Zoom call last week. I spent an hour or so teaching her how to invest in cryptocurrency and she wanted to offer me something for my time.
I drew a blank. I stammered for a moment.
"Come on—you have to miss something?"
I mean, yeah—I miss my kids. And because I'm apparently a 12-year-old, I miss Rice Krispies and marshmallows so I can whip up a Pyrex dish of Rice Krispies treats, which I used to do on the regular.
But beyond that…do I really miss anything about America now that I've lived nearly 2.5 years in Prague?
Honestly, I'm pretty sure the answer is no.
I've been traveling the world since I was nine or 10 years old (the benefit of a mom who worked for a string of international airlines). As such, I'm very much accustomed to landing someplace random and new and quickly fitting into a local flow—eating at the local hangouts, shopping at the local supermarkets, haphazardly finding my way around the local transit system.
But, obviously, I was never really a local. I was always just the tourist passing through, a temporary interloper with somewhere else to go soon.
Now, I am a local—I'm not just playing at being one.
I reflexively know the detours when Prague's trams or subways are shuttered for repairs or track upgrades. I know the contours of neighborhoods and where to find the tiny Asian market hidden inside a small mall beneath an office building when I need bonito flakes to make homemade miso soup. Though I don't speak the language, my brain seems to recognize words and phrases and alerts me to pay attention when I'm out and about and engrossed in my phone.
In that, there is a certain amount of contentment.
It breeds a sense of "home."
Yet, at the same time there's this sense of awe and wonderment that, after 50-plus years living all over the U.S., was missing in my life. Frankly, every day in America was Groundhog Day. Not a knock against the U.S., mind you, just a comment on the reality of being in the same place for so long that nothing is ever really new.
But living abroad…
No matter how old I am, I see everything through the eyes of that 12-year-old missing his Rice Krispies treats.
This past weekend, I went in search of a part I needed for the cryptocurrency mining rig I built. The quest took me on the tram to a stop I'd never been to. I was a bit mesmerized as I stepped off the tram and looked around.
The arrangement of the streets, the confluence of tram lines, and the age and architecture of the low-rise 18th- and 19th-century buildings… I had a flashback to some long-forgotten World War II documentary about Central Europe. It lasted but a brief moment, but it was a moment that made a Saturday afternoon tram ride worth the price of admission.
That happens to me all the time. Just today, I strolled through a nearby park so that I could sit out in the sun and write this column, and found a lovely little beer garden with pulled-duck sandwiches. I've been to this park many times, and I sometimes write at a small, beer bar here in summer. But I'd never explored the other side of the park.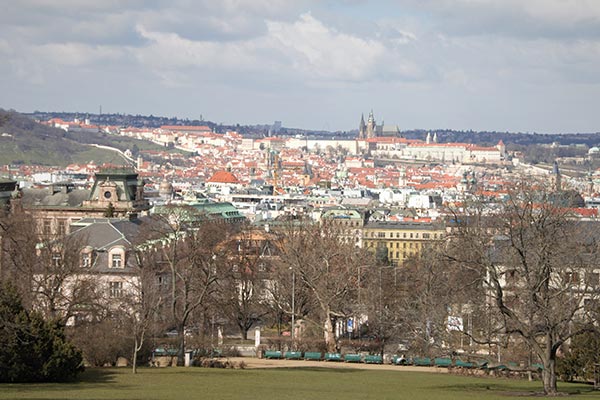 On the walk back home, I took a different path and found a butcher that sells Wagyu beef, and a Parisian-style pastry shop that looks fresh out of the Belle Epoque. Little discoveries like those, at least for me, make life abroad so engaging. You never know what you're going to find on any given day. It's the Forrest Gump Box of Chocolates approach to daily living.
Of course, this is not a Prague-specific issue. I know it's like this all over the world. I was in Accra, Ghana, a few years ago interviewing a Los Angeles native, and she reported similar experiences. I've interviewed a San Diego woman living in Lisbon, a Denverite living in Uruguay, and a Maryland couple living on a Greek island. Their stories are different; their experiences are unique; their ages are disparate. But the underlying wonderment is universal.
They all love the newness and the excitement of learning a new way of life, a new culture. They love finding the little surprises—a cool park, a great place to buy ingredients, a scene they happen upon that touches them in some way.
These are the moments I reflect on when friends ask, "When are you coming home?"
Truth is, I am home.
So, what do I miss?
Nothing.
Well, except the Rice Krispies treats.