A New, No-Hassle Way to Own Gold on the Blockchain
I didn't know what to do with the roosters.
I have several of them. They're sitting in a velvety purple, Crown Royal pouch in a safe deposit box at a bank in Louisiana. Should I have brought them to Prague? I don't know.
I was hesitant about crossing international borders, or moving through customs, with a bag of gold, 20-franc French coins—what are known as Marianne Roosters, minted in the early 1900s.
They look like this…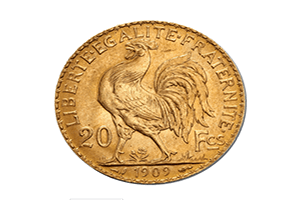 Moving about the world with gold and jewels sewed into hems and elsewhere is the stuff of legendary escapes and resettlements. But these days, it can be the path to having your gold confiscated, if not reported properly.
Or, you can quite easily lose it if you forget your carry-on in an airport bar, or maybe it's simply pilfered when you turn your head.
I really didn't want to risk that with my roosters and the other gold coins I own. So, I left them behind in the U.S. However, I do think about them relatively frequently.
Part of my job is to consider the grey and black swans circling on the horizon, and to contemplate the destruction they might deliver if ever any of them land. (Grey swans are rare, foreseeable dangers, like a pandemic. Black swans are known but unforeseeable dangers, such as an earthquake.)
Most of the swans I care about are economic and social in nature. Of course, I don't know which swan will land, and I don't know just how that particular swan might impact access to money or the value of stable currencies such as the dollar, the pound, and the euro. Meaning, for me, our survival bag should have access to gold.
But my gold is back in South Louisiana, chillin' in a safe-deposit box. Frankly, not the easiest thing to access from Prague.
Which is why I was intrigued by a message that popped up in one of my social-media channels recently. It was about Cache Gold—literal gold on the blockchain, where bitcoin and Ethereum trade.
Each token represents one physical gram of gold held as part of a large block of gold in secure, audited vaults.
If you want, you can convert those tokens into dollars around the world. Or, in some parts of the world, you can convert into physical gold.
Think about that in practical terms…
You own literal gold that has been digitized, and it follows you electronically, wherever you go—Toronto to Timbuktu.
At the moment, you can convert your Cache Gold into U.S. dollars in 173 countries. You can have physical gold shipped to you in Singapore and the U.S., but that looks to expand when the world is out from under various COVID restrictions.
And here's what I think is the snazziest part of this: The cost for one Cache Gold token is $59.73 as I write this, which pretty much matches the cost of one physical gram of gold.
That might not sound so whiz-bang, but go try to buy a gram of gold at any of the most reputable, online bullion dealers. You're gonna pay, minimum, $80. That's because of the fabrication costs of turning kilo bars of gold into grams, and then packaging them.
That's a 36% markup. It implies that gold needs to be in the range of $2,530 per ounce before you break even. (Gold is at about $1,860 per ounce today.)
Personally, I think gold reaches that level. But if it does, do I just want to finally break even when it arrives…or do I have a plump 36% gain for have ridden the price up?
The other, similar option is the Royal Mint in the U.K., which I've mentioned before. Through its DigiGold program, you can invest small sums of money and get that amount of gold, with only a tiny fee added for processing and storage.
You cannot take physically delivery through the DigiGold program, but it's a fantastic way to buy small amounts of gold (even larger amounts, really) without dealers' costs.
For those who travel, who move about overseas in retirement or for their job, or who simply want to own gold without the hassles of locking your roosters in a used, liquor pouch and stashing them in a safe-deposit box somewhere, crypto-based gold and programs such as DigiGold are a great way for your gold to shadow you—at no risk of loss or confiscation—no matter where you go.