Ethereum Could Topple Bitcoin in 2022
The end of the year is fast approaching, which can only mean one thing: Time to throw some spaghetti at 2022 and see what sticks to the wall.
I'm talking about a look ahead to what I see happening in the new year.
This is a 100% crypto-focused outlook.
I've talked elsewhere about my expectations for the general economy and stock market: That inflation keeps up in 2022. That the Fed will be forced to raise interest rates (which it announced as its plan last week). And that Wall Street could have some struggles because valuations are much too high, and Fed stimulus is ending in March (unless that's just a Fed head-fake…we shall see).
But crypto…that's just way more interesting because the trends are so much bigger.
The trends there are society-altering. Which means they're also wealth-generating. Because anytime technology changes society, someone is making money.
So, here's where I see the cryptoconomy heading in 2022. And to be clear, these are ideas I will be coming back to over and over again in the new year as opportunities rise up.
The Metaverse
If this past year was the Year of DeFi (decentralized finance), 2022 will be the Year of the Metaverse.
The metaverse is a new vision for the internet that merges the real world with the digital world. People will view it using virtual reality glasses, and will go there to shop, work, hang out, watch movies and concerts…basically everything they do in the real world. 
Metaverses are going to explode in popularity in 2022, largely in the gaming space. But we're also going to see non-gaming metaverse stories pop up. And one of the biggest could be a headline that announces: Tech Company Is First to Secure Metaverse Address.
By that I mean an existing company—maybe even a Fortune 500 company—will declare that it has a metaverse address, no different than its physical address.
My bet is that this happens in a metaverse called Portals, which is a slick, non-cartoony metaverse of 3D, loft-like spaces. This is what the high-end Portal, called Vision, looks like (Portal owners can design their Portal however they want; this just a mock-up of what one can look like):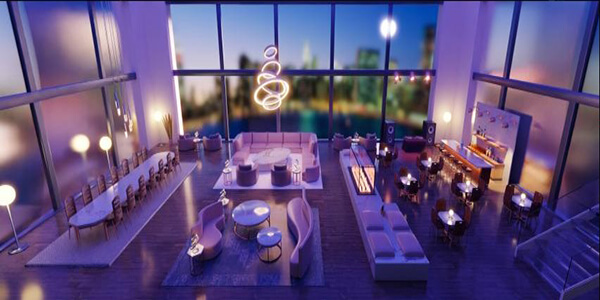 You can walk around in this space digitally—even chat verbally—just as you would walk and talk in the real world. That style of metaverse is going to attract companies, charities, celebrities, and others that want a more elegant place to call home in the online world.
The Great "Flippening"
Ethereum, the #2 cryptocurrency, will flip bitcoin to become king of the hill.
That's a heavy lift for sure.
Ethereum, with a market cap of about $460 million as I write this, is just over half the size of bitcoin at $888 million. But Ethereum is growing rapidly because of its myriad use cases. Bitcoin has just one primary use: as a store of value.
Ethereum is one of the primary cryptocurrencies powering DeFi, the metaverse, and a host of corporate utilities.
At the moment, the fees for operating on the Ethereum network (tens to hundreds of dollars per transaction) are a hinderance. But Ethereum says that in 2022 it will switch to the much-vaunted, long-awaited ETH 2.0 architecture. (I'll bring you a full breakdown of what that is and what it entails in tomorrow's column.) That upgrade should lower the fees significantly.
If that does, indeed, occur, then Ethereum's growth in 2022 is going to be enormous and could propel Ethereum's market capitalization past bitcoin's.
Solana Emerges as the #3 Cryptocurrency
A lot of competitors are racing to be "The Next Ethereum."
Truth is, none will achieve that. But Solana will emerge as Ethereum's closest competitor.
Solana is already big, so my prediction isn't so bold. It's the #5 crypto as I write this, with a market cap of $55 billion. However, when I say it will emerge as the #3 crypto, I mean it will claim that spot in definitive fashion.
The #3 token now is Binance Coin with a market cap of $87 billion.
Solana could rise to $200 billion in 2022.
Why?
The fan base for Solana is huge and growing. The network is lightning fast. The transactions cost fractions of a penny. A huge amount of non-fungible token business is happening on Solana, and a vast number of projects are heading to Solana.
Just this month, basketball superstar Michael Jordan announced plans for a player/fan engagement app that will be built on Solana.
To me, Solana is the Apple of the blockchain—a cult-like collection of users and developers who simply love Solana and what it does. There is a lot of pent-up value in that going into 2022.
Finally, let me say none of this is investment advice. I'm not telling you to run out an invest in all these projects. I just want to give you a bit of insight on where I think we're headed in the new year in crypto terms.
Ultimately, whether I am right or wrong about those predictions is irrelevant really, because either way 2022 is pushing us even closer to the end goal: A digital life that occurs almost entirely in the cryptosphere.
Let's profit from that future.