A Drive Along the World's Most Trendy Jungle Road
Only sometimes is picking up hitchhikers in Mexico a bad idea.
That you are reading this dispatch is indication that this is not one of those times.
My colleague, Ciaran, and I were returning to our rented condo in Tulum after grabbing a late-ish dinner along the happening, Bohemian-chic stretch of oceanfront jungle that is Tulum Beach. The place is cheek-by-jowl with hotels, boutiques, and restaurants. But it's all set in the jungle—like, literally, in the jungle.
This is, however, perhaps the most upscale jungle you'll ever come across. Steak tartare tacos for $28. Hotel rooms for $700 per night. Hublot and Dolce & Gabbana stores shoehorned in between vine-covered trees.
I really do mean jungle.
Ciaran and I made our way slowly up a road so pocked by potholes that it seriously needs the roadway version of a dermatologist. There, on the side of the road, a 30-ish couple was thumbing for a ride.
"Should we stop?" I asked Ciaran.
"Probably not going to kill us, dressed like that." It looked like they'd been out having fun at one of the beach clubs that line the sand.
So, I stopped and backed up and let our would-be killers hop into the back seat.
Turns out, they were packing information, not garrotes.
The woman is an interior designer and quite the accomplished portrait photographer from Barcelona, Spain. Her partner is from Patagonia, in the deep south of Argentina. They've been in Tulum two or three years.
"I'm really curious," I asked. "What was this place like when you arrived—this street in particular?"
I asked because I had a suspicion that this road—known as Carretera Tulum-Boca Paila—might be an example of what Ronan McMahon, the international real estate guru behind Real Estate Trend Alert, calls a "Path of Progress."
A Path of Progress is anything that makes a place easier to get to (new roads, airports, or bridges) or more desirable (a 5-star resort in a place that previously only had cheap hostels). Buy at the right point of a Path of Progress and you'll do very well.
"This," the woman said with a bit of excitement in her Spanish-accented voice. "Nothing. I come here every day and something new is here, like it popped up overnight. Two years ago, almost all jungle. Now—this."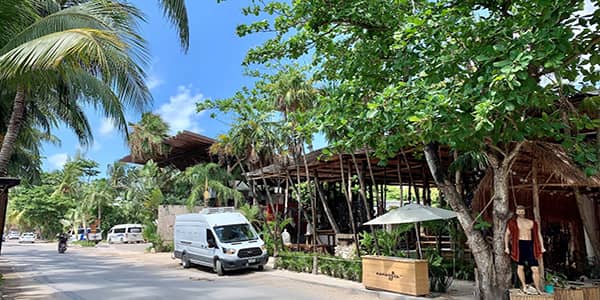 That sense of newness shines through. Even though this is jungle, everything looks fresh. Some of it looks incredibly high-end—all stone and glass. Some of it looks purposefully understated, as though designed by a special-effects team to appear as if it has been part of the jungle for decades or longer.
Trust me—it hasn't been.
But that's Tulum. It's emerging as the next destination for opportunity along the Riviera Maya. First it was Cancún…then Playa del Carmen a little farther south … and now a little farther south again in Tulum.
Ciaran and I recorded a portion of our drive down Tulum Beach, arguably the most up-and-coming beachfront stretch of road anywhere in the world. Click the image to view.
In Tulum, roadcrews are upgrading major thoroughfares. Western chains are popping up (I saw Starbucks, Dominos and a Burger King, as well as a Carl's Jr. under construction). Big-dollar boutiques are arriving. HSBC and Canada's giant Scotiabank are already here because they see the demand from Americans, Canadians, and Europeans.
Gated-community resorts are taking over like jungle vines.
Yet, despite how clearly popular this place is, the prices are still quite appealing. Ronan told me about condos available to his RETA members for less than $200,000. These are luxury offerings. Two bedrooms. Great views. They'd be great places to hide away from the world for a few weeks every year, and then for the remainder of the year rent out to travelers and digital nomads and Zoom Boomers who now flit about this area of Mexico.
I drove our would-be killers into their neighborhood, called La Valletta. It's where locals with a bit of money are moving. It's not touristy at all. And yet nice apartment and condo developments are popping up. Same with restaurants and shops.
Of course, you still have tacos sold from a cart on a street corner, and you still see low-end housing.
But, frankly, that is the Path to Progress—from village to 2022 all in less than half a mile. It's visual proof that Tulum is on the road to tomorrow, and that anyone who buys into this place now is very likely to see high five-figure or six-figure gains on the properties they buy.
I'm not telling you to pick up hitchhikers in Mexico. Probably not the wisest decision.
But I'm telling you that sometimes Mexican hitchhikers are packing the kind of information that can lead you to profits…or just a great place to live.