With today's dispatch, I thought I'd try something a little different: Answering reader questions.
A lot of questions flow into my inbox. I am really grateful that so many of you take the time to reach out to me. I do my very best to answer all of them, but sometimes I can get quite a few, so if I missed your question, forgive me.
I have, however, seen several emails that touch on similar topics, or which I see and think "I bet there are others who have that question, too."
So, I thought I could use some space here in Field Notes to answer some of these questions. Below, then, I've summarized and combined some questions I've gotten. I hope you find the answers helpful.
To start with:
What's the right way to think about the two market leaders in crypto—bitcoin and Ethereum? Are these alternative forms of currency or are they investments?
I own bitcoin and Ethereum as investments, not as alternative currencies. As I've noted in Field Notes and in my special in-depth crypto reports (which are available as part of your subscription to the Global Intelligence Letter), bitcoin will never be used as a daily currency for technical reasons related to the speed of transactions.  
It will, however, be used as a store of value—digital gold, as it is now routinely called.
Yes, it has crazy volatility. But here's a reality I think too many naysayers overlook. The younger generations—the millennials and Gen Z—they trust technology far more than they trust government. They've lived their entire lives in the digital world, literally, from entertainment to communication to education.
They're old enough to put their assets to work now, and I can assure you from talking to my nearly 25-year-old son that they see bitcoin as the place to stash their money, and so-called alt-coins as growth assets. To them, it's like bitcoin is the modern version of having a saving account and alt coins (Ethereum and so many others) are their investment accounts.
***
How do you protect your bitcoin? Do you use a hot wallet or a cold wallet?
I use both. I have two Ledgers—offline cold wallets that look like USBs and can be disconnected from your computer. On these, I store some Ethereum and Zcash to ensure I always have some crypto locked away.
I also have several hot wallets—wallets that are connected to the internet. A lot of my crypto is online since it's earning interest through Decentralized Finance sites such as BlockFi or Nexo where I am picking up annualized returns of 8% to 100% or more.
So, it's best to have a mix. Some online, so you can move your crypto and earn returns. But in terms of storage, cold wallets will always be the safest since there is a physical barrier between your computer and an unplugged wallet.
***
In your recent video about gold prices, I can see that gold was last this high around 2012. Is it possible gold prices fall and take another 10 years to reach these highs again?
First of all, if you haven't seen my gold video, you can watch it here.
Regarding the question, we go to the charts: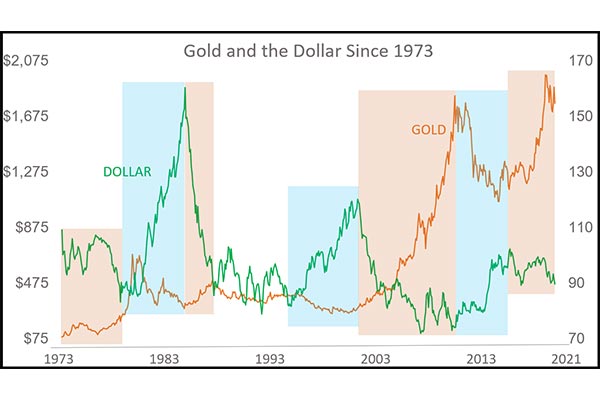 This is a chart I regularly rely on because it shows exactly what drives gold: the dollar.
In the tan boxes, gold is rising while the dollar is falling. In the light blue boxes, gold is falling while the dollar is rising.
The period from 2012 until recently was defined by a rising U.S. dollar. That was the ongoing effects and after-effects of the debt crisis in the eurozone. That made the euro a bit less desirable; therefore, many investors bought the dollar, since it seemed to be the cleanest shirt in a nasty hamper.
Though interest rates in the U.S. verged on nothing, they were still a bit higher than other major currencies, primarily the euro, the Swiss franc, and the yen. Money flows to where it earns the greatest return with the least amount of risk.
Today, the dollar is weakening again. Which has sent gold prices higher. And with the amount of money the U.S. has printed in the past year to deal with the pandemic, and with the amount of money the current White House is aiming to spend on a host of priorities, the dollar will continue to weaken.
And we have the Fed saying it will not increase interest rates until 2024 at the earliest—despite the rise of inflation. Other countries are already talking about raising rates (Norway, in particular; I wrote about it in the June issue of the Global Intelligence Letter). As those rates go up relative to the dollar, the dollar will weaken even more as money flows out of the greenback and into higher-yielding currencies.
Basically, we're not at the top for gold. We have higher to go from here. 
***
Why is transferring crypto on the Ethereum network so expensive right now?
If you've tried to move crypto from your account on an exchange, like Coinbase, to a crypto savings account at a place like BlockFi, your only option may have been the Ethereum network. And it's true: transfer fees on the Ethereum network can be ridiculous right now.
That's a function of demand on the network. Large investors are bidding up the transfer fees because they don't want to wait. They're essentially jumping the line by willingly paying higher prices, which is driving up costs for everyone. This will change soon as Ethereum introduces a new protocol that will sharply reduce the reasons this happens. (I won't bore you with techno mumbo-jumbo.)
A way around this for the moment is to directly tie your crypto savings account (like BlockFi) to your bank account and just wire money. Then you can move the cash directly into the coin you want to save and invest in.
The only issue is not all cryptos may be available through your savings platform. To wit…
***
Why can't I find certain cryptos on my crypto exchange or crypto savings platform?
Crypto is still an emerging space, so not all platforms offer access to all cryptos.
That's why, at a minimum, you will need an account at a traditional crypto exchange such as Binance.US or Coinbase, and you will want a separate account at a crypto savings platform (like BlockFi or Nexo) where you can put your crypto to work earning interest.
And that's all for today. Let me know if you like this feature, and I'll come back again with more reader questions.
And if you have a question tied to Field Notes or the Global Intelligence Letter, you can reach me through the contact form on our website here.