Welcome to your Weekly Digest!
I'm writing this week's missive from Ekaterinburg, east of the Ural Mountains in Russia.  
My Russian wife says it looks like a typical, Russian industrial city. To me, it looks like an overgrown version of so many gray, factory towns I've driven through in southern Pennsylvania and Ohio—just kinda there.
Below I'll share a picture of Lenin I took. And next week, I'll share with you a picture of the Church on Blood in Honour of All Saints Resplendent in the Russian Land in Ekaterinburg. That's where the Bolsheviks executed the last Tsar, Nicolas II, and his family amid the Russian Revolution. (It's on my real camera, not my iPhone, and I forgot the cable to connect my camera to my laptop.)
In any event, moving on to…Coinbase.
In case you didn't hear, this week Coinbase, the largest cryptocurrency exchange in the U.S., became the first to go public, listing on the Nasdaq.
At its opening share price, Coinbase had an $85 billion valuation, meaning it was worth more than the Nasdaq exchange itself or even the parent company of the New York Stock Exchange.
Coinbase's listing and monster valuation sparked a huge amount of publicity and excitement around crypto, and major cryptos including bitcoin and Ethereum soared to record highs.
As you can imagine, a number of people have reached out to me to get my thoughts on all this, and more generally to know whether I think Coinbase stock is worth investing in.
Well, here—just for you guys—is my quick take: Coinbase is wildly overvalued and I would absolutely steer clear.
The company's current valuation is driven by hype. Investors are simply over-reacting to the fact that Coinbase is the first crypto exchange to list. But, frankly, so what? There are many, many crypto investments on Wall Street.
The mainstream media—once again displaying their crypto ignorance—are acting like Coinbase is an essential part of the crypto ecosystem…as though it's the Google of crypto or something. But it's just a brokerage, no different than Robinhood or Charles Schwab in the stock market world. And it's not like Coinbase is one-of-a-kind. It has plenty of competition that is just as good, if not better.
I have used Coinbase to trade and it's a decent platform. But truth be told, I prefer Binance.US and Hong Kong-based Crypto.com. Coinbase is certainly not so radically different that it deserves some kind of super-premium valuation.
Moreover, competition in this space is only heating up.
At the moment, Coinbase is available in all U.S. states, while some of its competitors, such as Binance.US, are not. This will change in time. Also, as we speak, credit card giant Visa is building back-office processes that will allow every neighborhood bank in America to offer bitcoin trading and storage services to mom-and-pop savers.
So, my advice is, stay well clear of Coinbase stock at anything close to its current valuation, which is somewhere in the $320 range. Early investors are likely to get burned at these prices.
Frankly, I'd rather own $320 worth of bitcoin itself than spend $320 on a share of Coinbase. The crypto is much less risky than Coinbase at this valuation. Plus, bitcoin can grow five times from here, possibly this year. Coinbase is not going to increase five times from its current price.
***
From a good way to lose some money to a good way to earn some…
If you're a regular reader of my columns, you'll know that I'm a big advocate of the online freelance economy. It's a great way to pad your nest egg by doing something that you already know how to do.
I know this, because that's exactly what I'm doing.
Last year, I made almost $45,000 as an online freelancer…on top of my day job of writing these articles and researching the investments that can protect and grow our nest eggs. And here's the real kicker: Most of this freelance work was actually fun.
Last July, for instance, I started offering my services on the freelancing platform Fiverr as a screenplay editor. This is something I find genuinely engaging, since I went back to college, at UCLA, to study screenwriting in my 50s. Now, I earn over $1,000 a month from this fully portable, fully flexible side-gig.
This level of income is genuinely achievable, in part because demand for freelancers of all kinds is soaring right now.
According to freelancing platform Upwork, 36.1% of hiring managers say they plan to increase their reliance on independent talent "somewhat" or "significantly" over the next six months.
So, if you've ever wanted to build a portable side-income, or even a new career online, this is the time to explore your options.
No matter what your personal or professional background, whether accounting, sales, customer service, coding, graphic design, you name it…there are real opportunities to earn five-figure and six-figure incomes on platforms like Upwork and Fiverr.
Right now, the economy is reopening, lots of companies are preparing to scale up their operations, and the demand for freelancers is there. My advice: Strike while the iron is hot.
***
For months now, I've been saying that a new wave of inflation is coming, and that it's going to significantly impact everyday consumers (meaning you and me).
Well, in March, the consumer price index (CPI) rose 0.6%…the biggest monthly increase in nearly a decade. Gas prices alone were up 9.1% in the past month, while fruits and vegetables were up 2% and meats and fish, 0.4%.
In total, prices are now up 2.6% in the past year. And this is only the beginning.
Now, if you find these kinds of statistics intensely boring, believe me, I get it. It's hard to make yourself care about the CPI.
But this level of inflation is different. It's going to truly impact our finances. I continue to believe we are on our way to inflation of between 4% and 5% annually—and, honestly, it could be worse than that.
This will have real ramifications. Your standard-of-living will shrink. The stock market will broadly fall. Mortgage rates will increase, making houses less affordable. Same with car-loan rates. So, we all need to take steps to protect our nest eggs from this kind of inflation.
This is why I own gold. It's why I own silver. It's part of the reason I think exposure to bitcoin is a good investment. And it's why the recommendation in the April issue of the Global Intelligence Letter will see higher stock prices.

Speaking of inflation, I give you V. Lenin, in all his glory, from here in Ekaterinburg.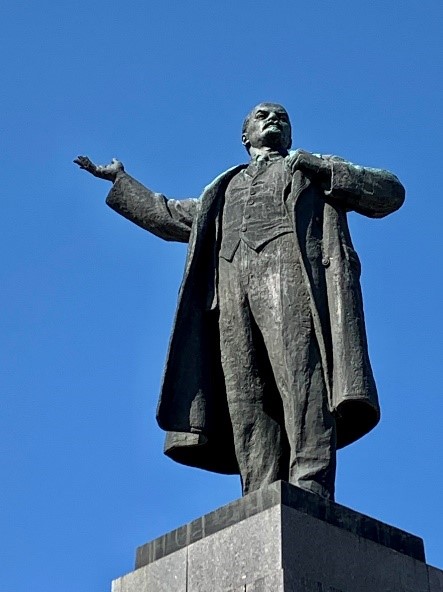 Lenin is supposed to have once said that the best way to destroy the capitalist system is to corrupt the currency by way of inflation. Through this process, governments confiscate, secretly and unobserved, the wealth of their citizens.
Whether Lenin did or didn't declare that, I can't say for a fact. Regardless, the sentiment is 100% true.
If you ever wonder why government likes inflation—it's because it benefits government, not you.
That brings me to the conclusion of this edition of the Weekly Digest. As always, if you have any feedback or questions, send me an email anytime at jopdyke@globalintelligenceletter.com.
Enjoy your Sunday!