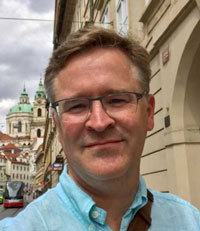 We are on the cusp of major financial and social change.
This period of change was not initiated by the coronavirus pandemic, but it was accelerated by it. Now we are hurtling toward a future in which systems we have long relied upon will be fundamentally altered or even erased.
Some of these are changes are frequently talked about in the mainstream media—the work-from-home revolution, the rise of e-commerce, innovations in health and wellness…
However, other changes attract far fewer column inches. I'm talking specifically about changes to how we must invest, and how we can protect and grow our wealth.
Right now, our financial world is in the midst of a historic transition. Systems we have relied on our entire lives are breaking down.
To tackle the pandemic, governments started printing vast sums of money and as a result, global debt has soared to more than three times the size of the world's economy. This mind-boggling explosion of debt will have near-term consequences for every single one of us and our wallets.
At the same time, new innovations, such as bitcoin and other cryptocurrencies, are poised to usher in wholesale changes to finance and banking.
To prosper in the days ahead, we will need to learn how to navigate these risks and exploit these changes to our advantage.
I'm not just talking about investing in stocks and bonds and gold and crypto and whatnot (though those are certainly topics I'll be discussing with you in great detail!). I'm also want us to look at "financial" from a more holistic perspective. I see the path that money, banking, and investing are taking. I see the tax opportunities that savvy individuals can pursue. I see how jumping onto this new path now means not just an opportunity to profit, it means the chance to protect your wealth.
You see, I've spent my career studying, writing about, and participating in the world of investing and personal finance. I spent 17 years writing about money and investing for The Wall Street Journal. I've written 10 books on such topics as investing globally and personal and family finance. I've been to nearly 70 countries. I've opened bank and brokerage accounts in more than a dozen countries on five continents. I have worked as a trader and a hedge fund analyst. I even wrote a screenplay based on research I conducted in northeastern India that was optioned by a Hollywood producer.
As such, I know how current commercial and financial systems operate, and I know how they're evolving and what it means for you and me. Think of me as a spy who's come in from the cold to tell you about what's really going on in the world and which you're not hearing about through traditional media outlets. Which is precisely why I picked Field Notes as the name for my letters. It is, quite literally, notes from the field—notes from my travels and my research—not unlike an intelligence agent might share with superiors.
I want to dig into bigger topics for you—topics that have a different kind of impact on your life.
I don't want to simply tell you how changing perceptions of the U.S. dollar on a global basis threatens your daily life, I'll show you what you can do to protect yourself, and even benefit from that.
I don't want to tell you about the great opportunities in Apple and Tesla—stocks for which writers have already spilled oceans of ink. I want to bring you fresh ideas about the investments few are paying attention to—all over the world—that can add not just growth to your portfolio, but a level of income you might not realize is possible.
I don't want to tell you in a brief note that a Caribbean remote-worker visa is largely a waste of time and money. I want to take you directly onto the beaches and into the cities of countries where a residence visas make a lot of sense in terms of putting your own Plan B in place.
And I want to bring to you the world of income opportunities in crypto (a world way beyond bitcoin and Ethereum). And, yes, I specifically mean "income" opportunities in crypto—not quick-hit, capital gains opportunities.
That, to me, is the world we should care about. It's the world of tomorrow, and the opportunities tied to tomorrow that are unfolding globally today.

Jeff D. Opdyke
Editor, Field Notes / Global Intelligence Letter

---