I can have anything.
I don't know what I want!
I call it the "paralysis of choice"—the idea that because the world is wide open to us, we don't know where to go. I love Portugal…but what if Greece is better? Or Uruguay? Or…
Ahhhhhh!!!!
That pretty accurately sums up the emails I've received in the wake of International Living's Ultimate Escape Overseas online conference last weekend. I spoke at the event from my home in Prague, and was there to help folks navigate the challenges of managing personal finance across two continents when you decide to live abroad. 
Many of the questioners, however, are still at Square 0. They aren't, yet, terribly concerned about the money aspects. They're still at that moment where they realize living overseas is the dream. But where do you go when you can go anywhere? How does one whittle the world down to a single destination when there are so many to choose from?
The Paralysis of Choice.
So, to whatever degree this helps, let me share with you how I approached this idea of leaving Los Angeles for Europe…
First and foremost: Visa availability. That will ringfence the sandbox you can play in.
I had the choice of living anywhere in Europe. My immediate thought was Edinburgh, Scotland. I love the Middle Earth/Middle Ages/Game of Thrones ambiance of the city and the Highlands.
But very quickly, dreams of fried Mars bars and Laphroaig Port Wood Scotch faded. There is no such thing as a freelance work visa in Scotland. There's an innovator visa, but it requires £50,000 in investment capital (about $70,000). And there's a startup visa, but it's for "high-potential entrepreneurs" seeking to start a business in the U.K.
So, where you can get the kind of residence visa you need to live locally is your #1 starting point. Everything else is moot if you can't live there legally.
Next on my list was Barcelona, one of my absolute favorite cities in the world. I love the Spanish culture. I love tapas and Spanish wine. I love the Mediterranean coast. And I know just enough Spanish to order a cheeseburger without tomatoes and onions.
Plus, I could get a freelance visa.
Alas, Spain does not have the world's friendliest tax regime. At my expected income level, marginal rates top out at 45%. So, bye-bye to the adorable sea-view flat I found in the kitschy Barceloneta neighborhood.
That's a key, second factor: cost of living, broadly speaking. That wraps in not just the apartment and food and whatnot, but taxes. If you're working, you will have to pay into the local tax system. If you're a retiree, your income might still be taxed, and if it's not then is it enough to fund the lifestyle you hope to afford locally?
Next on my list: lifestyle.
I've lived all over the U.S.—south Louisiana, Dallas and Houston, Southern California, Seattle, metropolitan New York. They all have their charms and annoyances. But the one fact I learned about myself is that, given a choice, I will always choose a walkable city with mass transit over one without. Simply put: I hate city driving and I hate looking for parking. Ain't nobody got time for that!
In Europe, I wanted walkability, and I wanted easy access to metros or trams or both that can take me wherever I wish to go. Europe is known for its evolved, enlightened approach to mass transit, but that doesn't mean you find it everywhere.
So, the lifestyle that resonates with you needs to factor into your selection. If you want a beachy culture, you're not moving to Sweden, although there are beaches there and you can get a residence visa.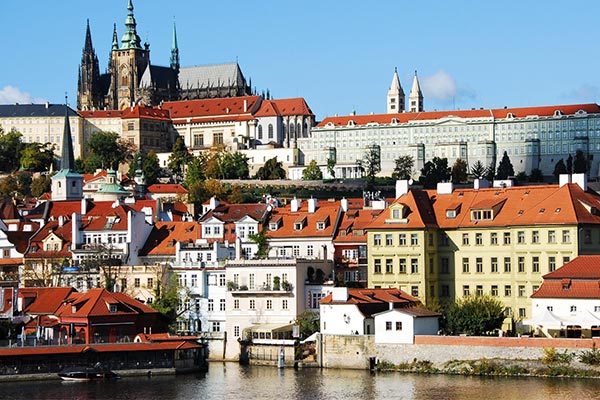 As part of lifestyle, I include weather, more particularly the seasons.
As much as I liked living in Los Angeles, I grew weary of sun 627 days a year. I like seasons. I like snow. I want to live in a place where seasons change noticeably and dramatically. Falling leaves. Chilly breezes. Snow-laden clouds. That first hint of spring warmth. Having a beer while writing beneath the shade of a tree in a park in the summer.
That ruled out southern Italy for me, despite the fact that I love the Adriatic backside of Italy and where it is both relatively easy to snag a freelance visa, and where cost of living is very affordable.
Finally, there is the intangible: gut feel.
I cannot stress this enough: Go see a place before you choose it. Really!
I heard a lot of people in the online conference talking about this country or that, but they haven't spent any time in any of those places. That's a mistake. You don't know how it's really going to jibe with your sensibilities.
I love Riga, Latvia, for instance. But my sensibilities lean toward Old World Europe with more than a hint of old Soviet flavor. That is absolutely not for everyone. So, I could tell you that Riga would be a wonderful, affordable place to live—and it absolutely would—but if it you arrive and it clashes with your sensibilities, you're going be unhappy.
Same goes for any place. Lisbon is my favorite city in the world. But if you've never visited Portugal, you can't know if you'll like living there. I can give you a long list of reasons why Punta del Este, Uruguay, would be a great place to call home. But my list might not match what you want, and you'll hate living there.
Ultimately, I chose Prague because it ticked all the boxes relevant to my life: easy access to a work permit and long-term residence visa; a favorable cost of living; a walkable lifestyle with fantastic mass transit; four distinct seasons; and I'd been here before. I knew I liked the Old World feel of Prague; it feels comfortable on me.
So, my point here at the end: Make a list of what you need and what you want in a new hometown. Then, build a spreadsheet and tick off the cities and countries that match that list.
Soon enough, you'll have whittled down the world of choices to the place that's just right for you.