Today, we begin with two of the more important quotes of 2021 so far. To wit:
"I gather that people at the Federal Reserve Bank of Boston are working with researchers at MIT to study the properties of it. We do have a problem with financial inclusion. Too many Americans really don't have access to easy payment systems and bank accounts. This is something that a digital dollar, a central bank digital currency, could help with. I think it could result in faster, safer, and cheaper payments."
That's Treasury Secretary Janet Yellen responding to a CNBC interviewer back in February.
On that same day, Federal Reserve Chairman Jerome Powell told Congress that a digital dollar is "a high-priory project for us."
You don't have to read between the lines to realize that a digital currency—the Digi Dollar—will soon replace the physical notes in your wallet. That day is approaching much faster than you might imagine.
Which means there are some dots for us to connect in terms of how a digital greenback would function in our daily lives.
The most important…100% loss of privacy.
That's ultimately what this missive is about—how to protect your privacy in a digi-dollar world. But we will circle back 'round to that at the end.
Right now, the cash that you and I spend is private. It's secret. No one knows if I buy a Coke or a Dr. Pepper at the corner mini-mart with cash. No one knows if I pay a babysitter $20 or $50 with a wad of greenbacks. Who knows if I give my Nicaraguan gardener a $100 bill to mow the lawn?
All those transactions are totally obscured by the inherent anonymity of physical cash.
But in a world of digital dollars…Uncle Sam becomes the Eye of Sauron, the all-seeing evil from Lord of the Rings. He will know everything.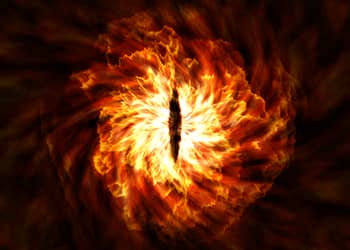 We will all have a digital wallet at the U.S. Treasury (by the way, goodbye local banks). At some point, our paychecks will all go that wallet. Anytime anyone pays us for anything…to that wallet. Anytime we spend, either online or in person, the money will come out of the wallet. And because all of this is on the blockchain, it will be visible.
Uncle Sauron will see it all.
There will be no privacy.
Sure, the ACLU and others will scream and holler about civil rights and privacy and whatnot. And Uncle Sauron will make this assurance and that, to quell the anger.
But at the end of the day, a digital dollar will mean that Treasury, the IRS, even law enforcement will have access to our income, our savings, and—most scary of all—our spending. The rationale for this, of course, will be: homeland security!
We have to stop those pesky terrorists and money launders! Congress, being nothing but a largely useless body of reactionary rubber-stampers, will solemnly nod their acceptance of that drivel, just as it did with the ironically named Patriot Act that usurped numerous freedoms in the wake of 9/11.
And with that, your financial life will be a reality TV show for this governmental agency or that.
Which brings us back to privacy…
Among those who know just the basics of crypto, there's a long-held perception that bitcoin is private.
It's not.
If you were to buy bitcoin at, say, Coinbase (a popular crypto exchange) your purchase exists in the blockchain. Government could subpoena Coinbase records, and it could see that you own X amount of bitcoin, and that you transferred that crypto to Crypto.com, another exchange based in Hong Kong, where you used it to buy a cryptocurrency called Polkadot.
It's all out there for anyone to see, once they have your bitcoin address. (Coinbase caved to the IRS a few years ago and coughed up data on its users. So that's a precedent we're dealing with.)
To counter this invasion of privacy, services are popping up that anonymize crypto transactions. I won't get into the technicals of how they work. But by and large, they're using a "mixing" process so that prying eyes can't see what went it, and they certainly can't see what went out. In effect, they're creating "crypto blindness."
That's going to be a monster trend in coming years, particularly as Uncle Sauron rolls out his digi dollars.
You're going hear friends tell you how they washed their digital greenbacks—legally—through a mixing service. Or you will hear more and more about digital wallets such as Blank Wallet.
Again, no technicals, but essentially Blank Wallet is pooling users' Ethereum into large contracts and then assigning new, electronic-wallet addresses when the Ethereum is moved out of that contract. Blockchain detectives have no ability to see who deposited, how much they own, or when they withdrew and where the Ethereum went.
This is going to be an everyday feature of our future.
I'm betting mixing services and Blank Wallet and others that will crop up are going to be close to ubiquitous at some point. People are going to move lots of money into these wallets, and they will spend privately from those wallets.
And, yes, government could crack down on this. It might very well try.
But here in the electronic age—when there are anonymized browsers, VPN connections (and, soon, decentralized private network connections, or DPNs, on the blockchain)—you'd have to shut off the internet to effectively stop this…and that would just destroy the economy.
So, get ready for digital dollars, likely before 2024, I'd bet.
Get ready for the loss of financial privacy.
And get ready for all the myriad technologies that will help you regain your lost privacy on the blockchain.