What I've Learned in 3 Years as an Expat
Bureaucracy and prostitution both show up in the earliest written records of ancient Sumerian history.
Turns out that prostitutes and bureaucrats are among the oldest professions in the world…and I will let you, dear Reader, make the obvious connection.
In the meantime, my wife and I were recently strolling through a lovely Prague neighborhood on our way to manage a piece of bureaucracy. Took us forever and a day to secure her temporary-residence visa for the Czech Republic, and now we're in the process of having to quickly apply for long-term residence for her and her son.
That's happening just as I must wade through the biennial process of renewing the long-term residence and work permits that allow me to live and write in one of the most beautiful cities on our little globe.
It was a perfectly autumnal morning of scattered gray clouds, with brilliant blue skies peeking through here and there. Felt like the temperature was in the 40s. And as we were strolling, I made a comment about an old apartment building I like.
My wife, who had come to Prague as a tourist a couple of times, casually offered that "the beauty of Prague isn't in vacationing here. It's the daily beauty of living here and walking around."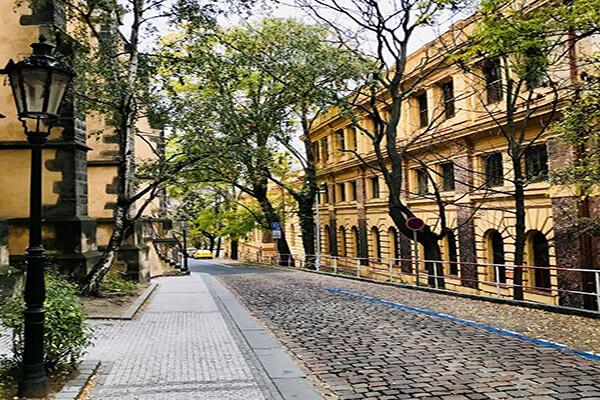 I've lived here for three years now and I've never been able to capture in a single sentence just how lovely this place is. My wife is here less than a month, and she nailed it on her first try. Of course, she has a Ph.D., so that makes her smarter than me.
She's absolutely right, though. That is very much the beauty of Prague—living here every day amid what is a life-size museum to architecture and nature.
But this really isn't about Prague, per se.
It's the idea that you never really see a place when you're a tourist. You see the polished, picture-postcard version of what the travel industry says a particular place is. Nothing wrong with that. It's the CliffsNotes version of wherever you happen to be vacationing…which is exactly what most of us want.
Everyone wants the beauty of the beaches and resorts in Phuket, Thailand. No one wants the ugly reality of Phuket City (and, frankly, Phuket is possibly the most overrated destination on the planet, as far as I'm concerned).
This is precisely why I've spent most of my life wanting to live abroad.
I want to see the reality—the good, the bad, the scabby warts. That's really what makes places unique.
I've been to modern art museums all over the world, and they're all pretty much the same (except the Pompidou in Paris…the most fabulous museum for modern art fans).
I've can't tell one hotel from another at this point (except for my three favorites in Singapore; Punta del Este, Uruguay; and Bucharest, Romania). Restaurants, too—only a very few stand apart.
That's typical travel: hotels, restaurants, tourist attractions.
A lot of people will say they love a place because of their vacation time there. And they'll say, "I wish I could live there." And maybe that dream is what prompts them to seriously consider living overseas…and if so, that's great! I encourage the dream—1,000%.
But what we love as tourists is never what we live as residents.
I fell in love with Prague's beautiful, atmospheric, and ancient Old Town the moment I set foot in it years ago—maybe 2013 or so. And when given the opportunity to live and work in Europe, that idealized image of Old Town is what I had in mind.
That's where I wanted to live—right in the heart of Old Europe.
But that's not Prague. And that's not where I live.
Friends I had here told me I'd be an idiot to live there: costs are higher, apartments are smaller, conveniences like supermarkets are more challenging to find, and the place is wildly over-touristed, meaning it's always crowded—and loud late into the night.
Instead, I ended up in residential, real-life Prague—local-family Prague.
Leafy, hilly parks everywhere. The farmers' markets. The 200- and 300-year-old, low-rise residential buildings in all sorts of pastel, rainbow colors. The always-lively alfresco cafés in all the neighborhoods. The sense of community you notice everywhere you go. The tree-lined streets and their sense of quietude. The views of the city, or Prague Castle in the distance, that sneak up on you when you a turn a corner.
As my wife said so eloquently, that's the daily beauty that makes Prague such an amazing place to call home.
I hope you find that place one day, too.