You Can Find Bargain Projects on Secondary Markets 
Sometimes it's just easier to go through the back door.
I regularly write to you about NFTs, the non-fungible token cryptocurrencies that have exploded onto the scene over the last year. They started out as nothing more than digitized and pixelated art. They have since morphed into projects that hide tremendous utility behind pictures of cartoon monkeys and whales and robots.
Because of their popularity, and because of the wealth that NFTs are creating (and it is serious wealth), it's increasingly challenging to get these crypto tokens at their initial launch. There are often 10,000 people or more scratching and clawing to grab one of only 2,000 to 7,000 NFTs. I was recently part of a launch where just 338 exist.
Franky, it's a lot like Black Friday at the only Walmart in town.
But there is another way in…
You don't have to focus on the front door—the initial launch.
You can more easily walk in through the back door—the secondary market.
I do it all the time, and with grand results.
The thing about the NFT space is that buyers suffer from both "shiny object syndrome" and "limited liquidity disorder."
By which I mean that just about every day a cool, new NFT launches and buyers are eager to snap it up…yet they don't always have enough cash to do so.
So, they dump quality projects to raise the capital needed for this shiny new NFT.
And that just means you and I can wade into the secondary market and leisurely snap up high-quality projects—no pressure and no racing against tens of thousands of people.
One such opportunity right now is an NFT on the Solana network called The Fellowship.
I'm gonna tell you all about this NFT in a moment, but first a disclaimer: NFTs are the bleeding edge of crypto. This is a very volatile, highly risky space. Also, this is not a recommendation to rush out and buy this NFT. I'm using this as an example to demonstrate the kinds of possibilities that exist on secondary NFT marketplaces.
Now, The Fellowship.
It was founded by two software developers who worked for Microsoft and Boeing. They got together and created an NFT with real utility. That utility: launching NFTs.
Let me explain…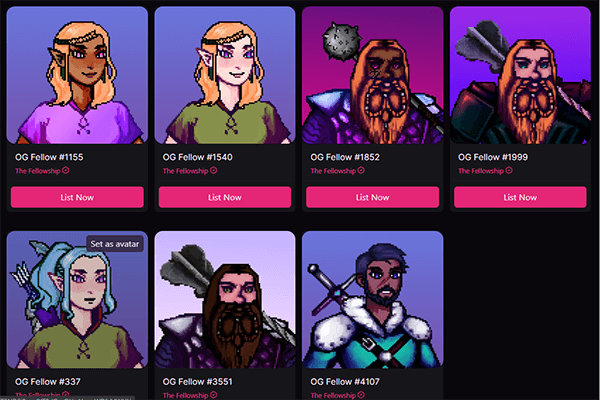 The process of creating an NFT starts with designing the art. The art regularly comprises several different layers that overlay each other to create an image. The idea is that you create enough layers so that numerous variations exist, and so that each NFT minted is different from every other NFT in the same collection. In The Fellowship NFTs above, you can see that there are lots of different layers, including different hairstyles, weapons, background colors, clothing, etc.
Then there are all the technical components that pull the different layers into a unified picture that is then "minted" (or launched) on a unique "mint site."
Basically, minting an NFT collection is a lot of work. Very time consuming—particularly if you're not a developer.
The team behind Fellowship recognized that and created a simplified approach that turns every step into a plug-n-play process. I have seen it in action, and I was stunned at how simple it was. Outside of the art, it's a five-minute process from setup to minting. It's built so that anyone—literally anyone—can create and mint a collection of NFTs.
The Fellowship has a nice following in the Solana ecosystem, and it has a number of projects that are coming to it for minting services—teams that have a great idea for an NFT but don't want to deal with all the technicalities of the minting process.
Those teams can either buy a Fellowship Launch Passes NFT for about $140 at time of writing and mint up to 1,000 NFTs…or they can spend a few thousand dollars and have Fellowship manage the entire process, soup to nuts.
Beyond that, Fellowship is part of what will soon emerge as the SuperDAO, a decentralized autonomous organization, comprised of several utility NFT projects that are all coming together to create what is essentially a one-stop shop for other projects that need a wide range of services in the NFT space—from art, to minting, to designing the tokenomics (the economics of an in-house cryptocurrency), to a host of other necessities.
Being part of SuperDAO means holders of NFTs across all the member projects will be airdropped (given for free) some proportional amount of $BUILDER token, the brand-new cryptocurrency that will fuel all the combined services.
I own NFTs tied to several of the projects wrapped into the SuperDAO because I see where this industry is going. SuperDAO should be a big winner in the space, which means Fellowship will tag along for the ride.
The Fellowship NFT originally minted for 2 Solana (about $210), back on Feb. 1. At time of writing, its floor price is 2.9 SOL, which is only slightly more in dollar terms because Solana has fallen a bit in price amid the Russia/Ukraine war.
So for $230, or thereabouts, you can own a Fellowship NFT—which will get you an airdrop of $BUILDER tokens—and allow you to participate in the growth of Fellowship.
There you have it: A backdoor way into a high-quality NFT.
You can find Fellowship trading on the MagicEden.io marketplace. Just type "The Fellowship" into the search bar.