Don't Miss This Once-in-a-Species Investment Opportunity  
Friday, June 29, 2007.
The date might not stand out to you, but it was one of the most momentous in modern human history. That was the day when Apple unveiled its very first iPhone…launching us into the smartphone age.
You might expect that this unveiling was greeted by mass excitement and universal acclaim.
It wasn't.
In fact, in some corners of the mainstream media, it was met with downright disinterest. One Bloomberg columnist dismissed the iPhone as something that would only ever appeal "to a few gadget freaks."
Apple's share price even fell when the markets opened on the following Monday.
I mentioned this Apple factoid in a recent column and I return to it now because we're at a similar point with bitcoin.
Just as the iPhone was dismissed early on, bitcoin is regularly dismissed and derided in the media. Not by everyone, mind you, but by enough that if bitcoin were a person it would need years of counseling to deal with all the hate.
But just as the iPhone has proved to be far more disruptive and revolutionary than that Bloomberg writer supposed, bitcoin is proving that it, too, has the power to disrupt and revolutionize.
Of course, no revolution is painless. There are always ups and downs…successes and setbacks. But it's in that pain where vast wealth is made by those who can see past the moment to where the revolution is leading us.
Let's go back to Apple, circa summer 2007…
In retrospect, it seems so obvious that the iPhone would totally upend so many industries beyond basic wireless telecommunication. Just think about a smartphone's skill set beyond phone calls—photography, art, writing, gaming, calculating, timing, shopping, investing, videography, video-chatting, messaging. These phones make a Star Trek communicator look like an overhyped walkie-talkie.
But at the time, there were plenty of people who couldn't see the future staring them in the face. They were too busy listening to naysayers in the mainstream media.
Of course, not everyone was blind to what the iPhone represented.
Investors with foresight recognize that revolutions take time to effect change. And those who stepped in and snapped up Apple shares when some of the media big-boys were saying the iPhone would only ever appeal to freaks and geeks…well, they're laughing right about now.
Back on June 29, 2007, Apple's shares cost $4.36.
Today, Apple trades at roughly $150 per share, a 3,300% gain in 14 years. A $10,000 investment back then is worth more than $330,000 today.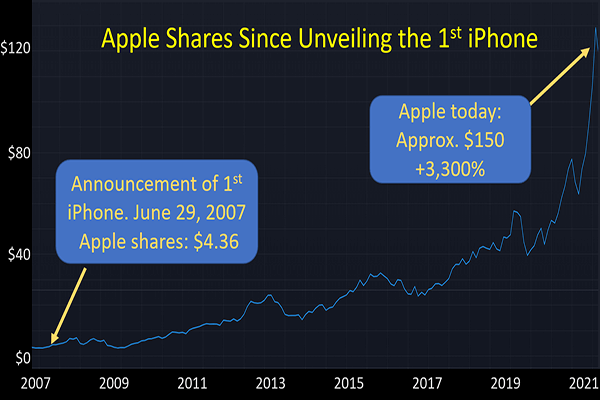 As I see it, the past is the present, and soon will be the future.
Blockchain, the powerful technology behind bitcoin, is going to match, and very likely exceed, the impact of the iPhone.
We're already seeing hints of what this technology will become in industries like personal finance, supply-chain management, logistics, medical care, entertainment.
The list of targets ripe for revolution is long.
The tomorrow that is rushing toward us is going to be built on the blockchain. There's no two ways about that.
Crypto right now represents a changing of the guard that is truly monumental in scale. Which means investors who look out to the future have a once-in-a-species opportunity to be part of something that fundamentally changes our world.
And fundamental change always brings wealth to those who embrace it.
Certainly, bitcoin is crazy with volatility. It rose to more than $63,000 from about $6,000 in just one year. Then it tanked to below $30,000 earlier this summer. Now, it's once again marching toward $50,000.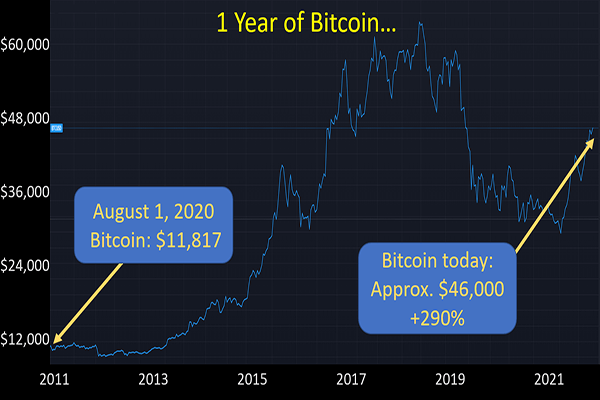 Like I said, revolutions are not painless.
But they change the status quo and lead to "bigger and better."
What does bigger and better mean for bitcoin?
Well, the price I expect bitcoin to reach will likely shock most people. Probably have a lot of them laughing, just as some in the media effectively laughed at Apple's geeky little phone.
There was a time when the media laughed at the idea of bitcoin ever reaching $100, much less $1,000.
And here we are…
Those of us in the bitcoin camp are telling everyone who will listen that crypto is the future of pretty much everything. Just look around at the companies jumping into bitcoin now: PayPal, Venmo, Square, MassMutual, New York Life, Mastercard, Visa. Just last week, I noted that AMC Theaters will soon begin accepting bitcoin as payment for movies and concessions.
I am writing about this part of the financial universe for one reason: I'm part of it myself and I don't want you to be left behind. You can get all the details on how and why to get involved in my bitcoin special report available as part of your subscription.
There will come a point, years from now, when writers will look back on 2021 and write a story about bitcoin similar to the one you've just read about the iPhone. They'll point out that there were small-thinkers calling bitcoin overvalued at $45,000 or $50,000.
By then, bitcoin will be many moons higher—and still climbing.