Welcome to your Weekly Digest!
This edition comes to you from the blissful surroundings of Letna Park in my adopted hometown of Prague.
It's a favorite writing spot of mine at this time of year, for obvious reasons. Spring has now officially arrived in the Czech capital after a very wet, cold, snowy winter, and the park has come alive with color. It's about as relaxing a place to write as I've found in my travels to nearly 70 countries. (And yes, my keyboard looks like a refugee from a war zone. But it has traveled across four continents so far, and I'm not giving up on her just yet.)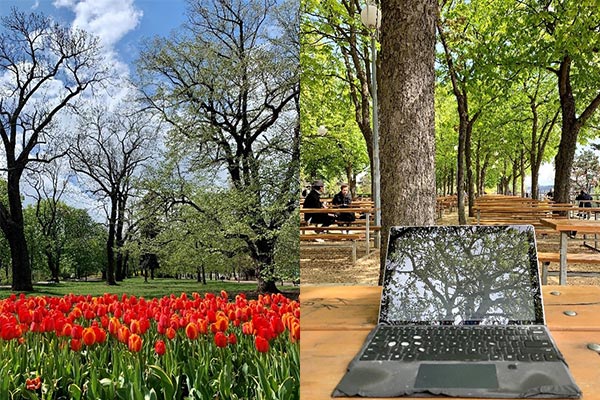 First up this week is a favorite bugbear of mine—the stock trading app Robinhood. (For my full feelings on why you should steer clear of Robinhood, check out this past Field Notes mailing here.) 
Well, this past week brought yet another screwup from Robinhood when the service's crypto trading crashed as people rushed to buy Dogecoin ahead of Elon Musk's appearance on Saturday Night Live.
There's a lot to unpack in that sentence, so let me explain…
Dogecoin is a cryptocurrency that started out as a parody but is now among the top 10 most valuable cryptos by market capitalization.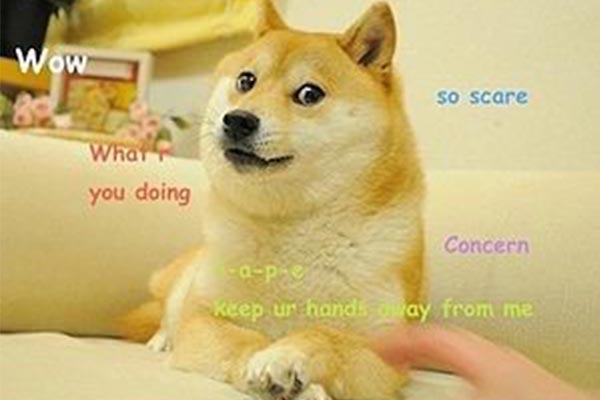 The coin was launched in 2013 by software engineers Billy Markus and Jackson Palmer after they cottoned on to the growing popularity of bitcoin. As part of the joke, they chose to name it after a popular internet meme of a dog. The one on the right there. 
Doge remained a joke coin until earlier this year, when multibillionaire internet troll Elon Musk started tweeting about it for reasons known only to himself.
Joke or not, some investors have made serious money this year on the coin. Between Jan. 1 and May 4, Dogecoin was up more than 11,000%.
I made a tiny bit of money on Doge several months ago, but amid the current insanity I'm steering well clear. My bet is that Doge crashes after Musk's Saturday Night Live appearance. Dogecoin serves no real purpose of any kind and unlike bitcoin, Ethereum, and many other leading cryptos, it has no limit on the number of coins that can exist. 
Still, young, less-experienced, foolhardy investors have been ginning up each other online to buy this pointless meme currency.
So, it won't surprise you to learn that it's one of just seven cryptos available on Robinhood—the stock trading platform of choice for young, less-experienced, often-foolhardy investors.
And these young Turks duly "crashed" Robinhood's crypto trading when they tried to load up on Dogecoin ahead of this weekend's SNL on expectations that Musk would give the crypto a shout-out during the show.
To me, this fiasco provides yet another reason not to trust Robinhood. It feels like every time there's a big movement in some asset, the service seems to crash.
That means one of two things are true: Either Robinhood's systems are not fit for purpose, or this is done intentionally to serve some unknown end.
Irrespective, Robinhood is not a financial services company I would put any faith in. What happens if you want to sell your Dogecoin—or Apple or Google stock for that matter—during a massive rally, and suddenly Robinhood crashes or purposely shuts down trading, as it previously did during the GameStop surge.
Personally, I want financial services companies I can rely on.
My advice: Avoid Robinhood and avoid Dogecoin, like the respective plagues they are.
***
Another story that caught my eye this week came from the bastion of prim and proper economic and business reportage, the Financial Times of London.
At the beginning of last week, the paper reported on growing expectations among traders that we're in the early stages of a commodity super-cycle—a period when the prices of all manner of commodities are going to skyrocket.
Just one example of this: Copper, the most important industrial metal, traded above $10,000 at the end of April, the first time it topped five figures in a decade.
Overall, the S&P GSCI index, which tracks 24 commodities, was up about 27% this year, as of May 5.
According to the FT, the reasons for the soaring price of commodities include strong demand from China and a boom in post-pandemic government spending.
This may have been news to FT readers, but it certainly wasn't news to subscribers of our monthly Global Intelligence Letter.
In our May issue, I predicted and explained this trend, and I offered my recommendation for how you can profit from this emerging super-cycle. Commodities are going to get more expensive and that's going to have wide-ranging implications. Best to prepare now. 
***
Finally this week, a climbdown from Google.
Last year, the tech giant had announced that once COVID subsided and the world returned to normal, employees would be able to work from the office three days a week and work from home two days.
However, it turns out that 3-2 model—a level of flexibility that would have been rare before the coronavirus—proved insufficient to appease many of the company's workers.
So, Google recently announced plans to implement a new approach where 60% of its global workforce will return to their pre-pandemic offices a few days a week, while 20% will move to a different office and the remaining 20% will work from home.
As I predicted at the outset of this pandemic, the work-life culture has been permanently shifted by COVID. Before long I anticipate that the percentage of employees working from home will far exceed 20%…at Google and any other company that wants to remain competitive.
And of course, if employees can work from home, why can't they work from a beach in Bali, a hilltop town in Panama, or indeed a park in Prague?
The pandemic may be slowly receding, but the long-term impacts to our culture and society are just taking shape. Some of these will be broadly positive, some negative.
My advice is that if you have the opportunity to live and work from somewhere more inspiring and more affordable in the months and years ahead, grab it with both hands. As I sit here in Letna Park, I can say, you won't regret it.
Plus, if you have a Spanish-speaking destination in mind, maybe check out Warren Hardy's upcoming free "Speak Spanish in 20 Minutes" Summit. Warren's got a pretty cool approach to teaching the language that I know works, cause I've talked to several people who've been through his program before and they rave about it.
That brings me to the conclusion of this edition of the Weekly Digest. As always, if you have any feedback or questions, send me an email any time at jopdyke@globalintelligenceletter.com.
Enjoy your Sunday!