The Everyday Prices in Prague Will Shock You 
I'm headed back to America next month—to attend my daughter's high school graduation. I am not looking forward to this.
I mean, yes, I'm really proud of my daughter. The graduation will be fun and emotional. What I'm not looking forward to, however, is the "headed back to America" part.
Don't get me wrong: I love my country. But, daaammmnnn! It's expensive. These days, even paying for basic goods and services feels like handing over your credit card at a Louis Vuitton store.
I was back in the U.S. in February to speak at an International Living conference. Because of COVID, it was the first time I'd crossed Uncle Sam's threshold in nearly three years. I was truly shocked at the prices I was paying for everything from a daily Red Bull to fast food and sit-down meals, to OTC medications. So, so crazy.
As an expat, I'm regularly asked by friends and family in America about my cost of living here in Prague. Seems there's a widely held assumption that Europe is stupid-expensive. A couple factors likely contribute to this misperception.
Travelers. Americans who venture to Europe on holiday often end up in high-priced locations such as London and Paris, and they're almost always interacting with the tourist infrastructure, particularly tourist-related restaurants that always overcharge because they can, and high-end shopping malls, where prices are higher. They return home and comment on how expensive everything is.
Media. Travel magazines and newspapers annually crank out stories on the most expensive cities in the world, and numerous European capitals regularly frequent those lists: Zurich, Geneva, Paris, London, Copenhagen, Dublin, Amsterdam, Oslo…etc. Guilt-by-association means Americans tend to lump all of Europe into the "expensive" basket.
Alas, reality spoils that fantastical view.
Outside of certain major capitals, Europe is a very affordable place to call home. And I specifically emphasize "home."
When you live here, you're not interacting with tourist culture daily. You're interacting with local culture. You're shopping in local supermarkets, and at less-posh shopping malls that still sell all the famous brands, just at local prices.
You're eating in small, neighborhood restaurants nearby your house or apartment. You're using local transit instead of pricier taxis.
What you find is that your money—be that an income or a retirement nest egg—affords you a much richer life than you might imagine.
When I moved to Prague for work several years ago, my new job came with a salary that was 55% less than what I was earning in south Louisiana. Let me emphasize that: SOUTH LOUISIANA! Not Southern California. Not Seattle. Not New York or Boston…south Louisiana.
And yet, my quality of life is immeasurably richer in Prague because my cost of living is so much lower.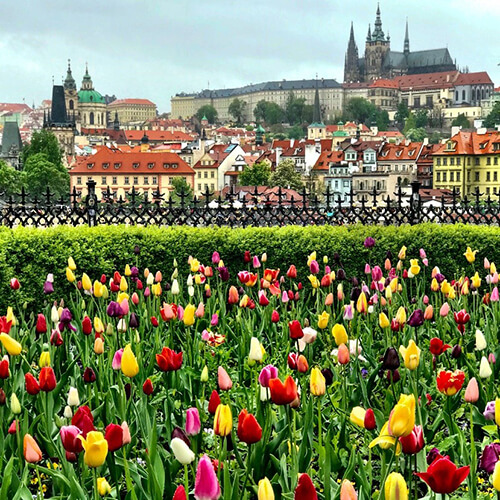 I have a nice apartment in one of the most desirable neighborhoods in the city—a leafy area of 17th and 18th century, red-tiled roof buildings…one subway stop from Prague's famous Old Town. It's 1,100 square feet. Bright. Airy. I'd say 80% of the sloped roof is a wall of glass looking out over the neighborhood.
I'd easily pay 40% more for something similar back home. And, frankly, there is nothing similar back home.
Across the street, at a popular local pub where I often write during spring and summer, a schnitzel with potato salad and half-liter of beer is about $12—and that's expensive!
I can pop into a more-utilitarian pub and spend $8 on the same meal. I was spending $12 to $15 on a sandwich alone when I was in the U.S. back in February.
My health insurance here is $193 per month for everything. No copays, no deductibles. Back in the U.S., I was paying more than $550 a month, and I still had copays and a deductible of $5,000 per year.
Mass transit is so encompassing here—as it is across much of Europe—that I don't need a car and all the related costs and hassles. My entire annual transportation expense is…$161 for a pass that allows me to ride any form of mass transit in the city. And I can literally get anywhere I want to go.
Trains to Germany, Poland, Slovakia, Austria, etc. start at about $15. My wife and I are headed to a Croatian beach this summer for a couple weeks. Round trip for the night train is less than $100.
Taken as a whole, it's simply a richer life. My money buys more, including more savings. And my stress level is pretty much in the basement 95% of the time.
As I tell anyone who has ever voiced a dream of living abroad…in the words of Nike, just do it.