Why I'm Rebuilding My Former Coin Collection 
The bad thing about divorce—well, one of the bad things about divorce—is that collections often go bye-bye.
They get sold off in the financial disentanglement.
Before my divorce several years ago, I'd built my own climate-controlled wine cellar and had accumulated a 600-bottle collection of high-end California Cult Cabernet wines, and a large number of investment-grade Italian and French wines. All went bye-bye.
Same with a very nifty collection of high-grade gold commemorative coins I'd accumulated over a decade or so. Bye-bye again.
I was especially sad to see those coins go.
They're really quite pretty. They are also some of the most sought-after gold coins in the history of American coinage.
The coins were part of a collection known as "the gold commemoratives."
It's not an official collection. It's a group of commemorative gold coins that were minted sporadically between 1903 and 1926.
Eleven such coins were minted during those years, and the coin-collecting community has lumped them together into an unofficial collection for simplicity. Serious collectors try to own all 11. I owned five of them.
Here's one of the coins I owned…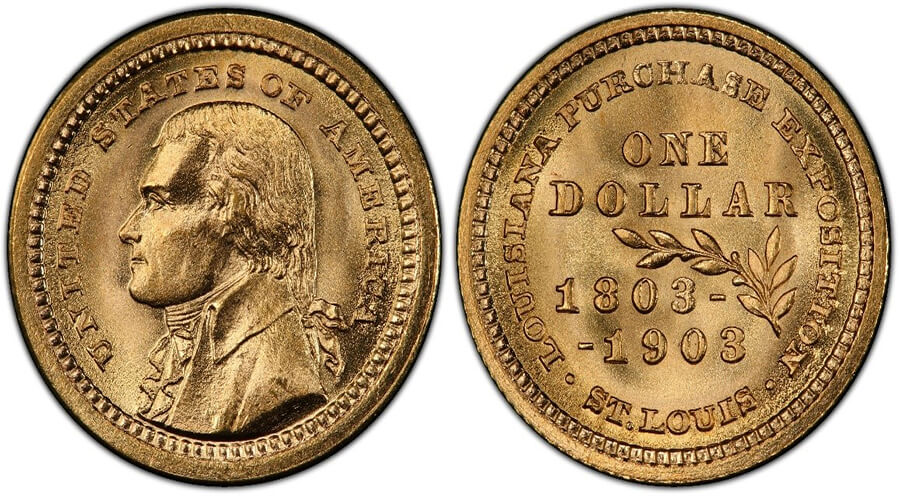 What I particularly like about these commemorative coins—and there is a point to all of this coming up—is that:
A) They're gold.
B) The collection is small, just 11 coins, and therefore it's relatively easy to complete the entire set.
C) They are deeply undervalued.
Some of the coins are just $700 to $1,200 each, in investment-grade condition, such as that 1903 Louisiana Purchase above (that's roughly $1,200).
The 1917 McKinley is in the $700 range. And the very attractive 1915-S Panama Pacific (pictured below) is barely over $1,000.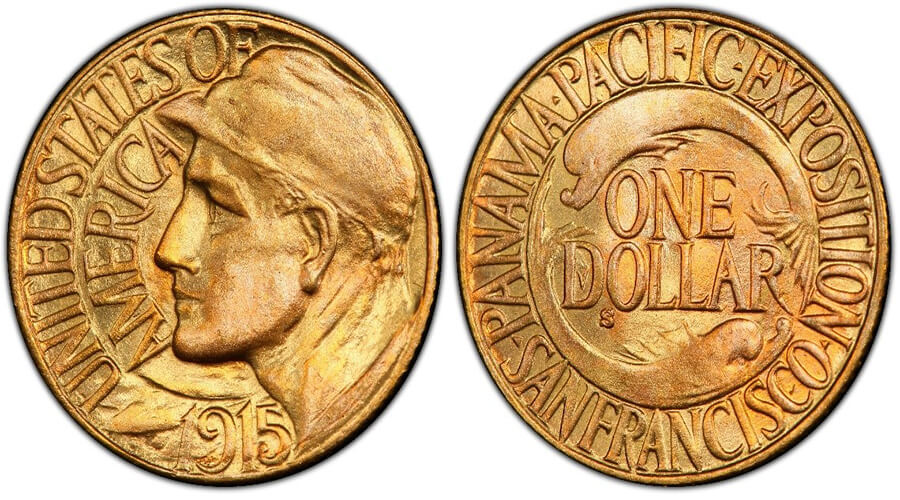 In all, you can build the full set—in investment-grade condition—for $20,000 to $25,000.
That's amazing value, historically.
There was a moment in the 1980s when this particular set was selling for beaucoup dollars through TV infomercials. Dealers could barely keep them in stock.
Over the last 25 or 30 years…total opposite.
Prices have fallen, like, 90%.
Just recently, however, a change seems afoot.
A couple weeks back, I was chatting with Van Simmons, a long-time friend, and one of the founders of David Hall Rare Coins. He's also a founder of PCGS, the world's largest and most-reputable coin-grading service.
Van told me that "If I tried to buy gold commemoratives right now [at wholesale] in MS 65 or higher [basically, investment grade], I would have trouble buying 10."
To me, that says something noteworthy.
Van has been at this for almost 40 years. He's one of the most-respected, well-known coin dealers in the U.S. His clients included billionaires and titans of industry.
If he can't find significant numbers of gold commemoratives in investment grade, that tells me that coin collectors are quietly snapping these up.
Not hard to figure out why.
The U.S. is in a pickle. A predicament. A sticky situation in which I see no easy path out.
I harp on this, but Uncle Sam's debt really has jumped the shark. It's grown so large that there is no way to repay it. Ever.
And there is little likelihood of reducing it when Congress overspends every year, which adds to the debt.
I don't care which economist wishes to disagree with this statement, but "debt really does matter."
There's no such thing as "debt doesn't matter." There's no such thing as "government can print as many dollars as it needs."
I mean, sure—it can print whatever it wants. But that most certainly does matter.
And my bet is that all this printing Uncle Sam's minions in Treasury and the Federal Reserve have been doing for decades now is going to spark a wildfire later this decade, and the dollar is going to be the kindling.
We're going to see the price of the dollar collapse.
For that reason, I see huge value in these gold commemoratives.
History rhymes.
And the rhythm I'm sensing seems very 1970s/1980s—Inflation. A stagnating economy. Rising commodity prices. A falling dollar.
Gold will excel in this environment.
Not hard to see the gold marketers pull out a playbook similar to the 1980s. They'll be pitching the yellow-metal as a way to protect yourself from America's inflation crisis.
Only this time around, they'll probably toss in the looming dollar crisis and remind Americans that in 1933, amid a crisis that threatened the dollar, government confiscated gold—except for rare coins!
Seems like a pitch that will resonate.
Which is why I am looking to begin rebuilding my former collection. I'm having Van look for a few in investment-grade condition—starting with the 1915-S Panama Pacific. It's my favorite of the 11.
As he told me, gold commemoratives "are one of the most underpriced, collectible areas…they are free, in my mind."
I don't think we'll be able to say that for long.