How to Make Big Gains From Magic Internet Money
Time to chase some magic internet money.
By which I mean, time to tell you about an NFT I own that is easily tradable today, and that offers roughly $240 per month in passive income…for doing nothing but holding the NFT in your crypto wallet.
I regularly tell you about NFT investments and the returns they kick off. I don't share these dispatches to advise you to get into any particular NFT, but rather to spotlight for you the kinds of opportunities that exist in NFTs at a time when so much of the mainstream media gets NFTs so very, very wrong.
As someone who consults for and advises NFT projects, I know the truth about non-fungible tokens, which are one-off crypto assets that represent everything from digital art, to venture-capital fundraising, to passive-income opportunities.
And what I know is that 95% or more of the writers who pen stories about NFTs for the mainstream media simply have no clue what they're talking about. They know just enough to be dangerous to your wealth, because they're spewing half-truths, untruths, and sometimes nonsensical gibberish.
So, today, let me tell you the truth about NFTs through the example of a very real project that's offering owners a regular stream of very real income.
The project is called Sea Shanties, a whimsical collection of underwater houses. I've mentioned Sea Shanties in past dispatches—I own four Shanties NFTs at the moment.
The project just recently released a new NFT collection called Sea Shanties Citizens Gen1. These are denizens of this underwater world that look like this: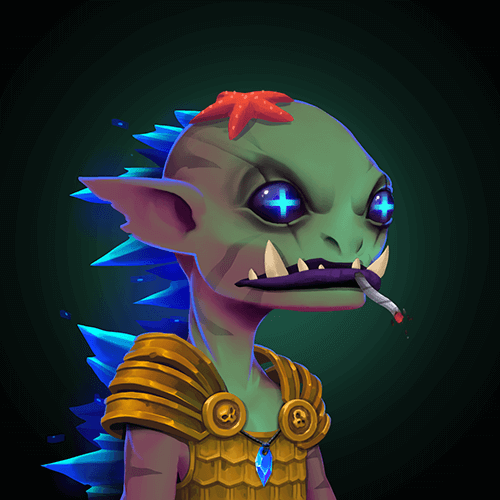 They will be part of a play-to-earn game that the Shanties team will release soon. That game will lead to an opportunity to morph two Gen 1 Citizens into a Gen 2 citizen…and the Gen 2 citizens are where the opportunity to earn a nice bit of income arises.
Anyone who owns a Gen 2 Citizen can "stake" that citizen at Shill City Capital, the make-believe, underwater bank that serves as basically the central bank of the Sea Shanties universe. Think of "staking" like you would depositing money into a savings account. Basically, you are depositing your NFT into Shill City Capital, and in turn you will earn something called Triton token, or $TRTN, the in-house cryptocurrency that runs the Sea Shanties ecosystem.
Well, when the Gen 2 staking goes live in the next couple months, those Gen 2 Citizens will earn 12.5 $TRTN per day. As I write this, $TRTN is worth about $0.63 per token, and has been as high as $1.60. At current prices, a single Gen 2 Citizen will earn the equivalent of $7.875 per day, or around $244 per month.
You don't have to do anything. The cash just accumulates inside your NFT at Shill City Capital, and you can withdraw that cash as frequently as you like—every minute if you want—and it dumps into your crypto wallet.
Then, you can pop over to Poseidon LP (think of it as a currency exchange booth) and convert your $TRTN into US Dollar Coin, or USDC, a stablecoin that tightly tracks the greenback. From your wallet, you can then send USDC back to your crypto exchange (Coinbase, Binance.US, Crypto.com, whatever) and convert it into dollars that you deposit into your real-world bank account.
To pursue this strategy (and I will certainly be pursuing this), you need two Gen 1 Citizens. They sold out last week in their initial launch—the "mint," in NFT terms—at a price of 1.87 Solana, or about $170 each.
As I write this, the lowest-priced Gen 1 Citizens fetch about 5 Solana (roughly $500) on MagicEden.io, the largest NFT marketplace on the Solana crypto network. At that price, you're looking at an investment of about $1,000 for two Gen 1 Citizens. But if $TRTN hangs around the $0.63 range (and it has been), then you'll earn all your money back is just four to five months.
Everything you earn after that is gratis passive-income. (Note: You can stake Gen 1 Citizens as well as, and earn 4.2 $TRTN per day each. That's $5.29 per day or $164 per month, for the two Gen 1 Citizens combined.)
But there's more…
The Gen 2 Citizens will share in 25% of the revenue generated by various projects the Shanties team is building, including a suite of consulting services that other NFT projects purchase. That's another stream of income which, at some point in the next few months, will also begin flowing to Gen 2 holders.
I can't say when exactly that perk will kick in, or how much it might be worth on a monthly basis. It's impossible to say how many projects will pay how many dollars for which selection of services. All I can say is that Gen 2 Citizens will likely be a cash machine as the Shanties ecosystem continues to build out.
Just to be clear, the price of $TRTN could sink, meaning expected monthly income could sink. And maybe the entire Sea Shanties ecosystem collapses and the NFTs are worthless. That's possible. This is crypto after all, and it remains a risky neighborhood.
I have talked to the team several times, and I know that what they're building and the consulting services they're offering are respected in the NFT universe. Nearly 97% of all Sea Shanties, and nearly 93% of Gen 1 Citizens are currently staked. Those are huge numbers in the NFT world, and it says owners are confident about the direction and strength of the project (otherwise, way more Shanties and Citizens would be up for sale and not staked).
So, there you have it—that's the truth about a passive-income NFT you can easily own today.
Sure, they're whimsical pieces of digital art…but increasingly these pieces of whimsical digital art are generating very real dollars that you can use in the actual world.