Thank you for signing up to receive my Field Notes!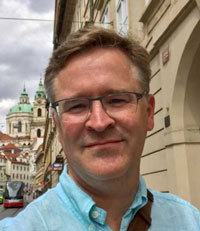 These letters contain my authentic, boots-on-the-ground research and analysis about the best ways to boost your income and protect and grow your wealth.
From my home base in Prague, I frequently venture forth in search of the most innovative income and investment opportunities—opportunities you are absolutely not hearing about in the mainstream (or even alternative) financial media.
For instance:
Has anyone mentioned to you the monthly dividend stream from a company whose sole purpose is to collect a small part of every sale that occurs at a particular fast food eatery? Probably not.
Do you know what sneaker-maker New Balance is doing that speaks to a revolution in product authenticity—a revolution that has the potential for early investors to turn a few hundred dollars into tens of thousands of dollars (and I am not being hyperbolic)? Probably not.
Has anyone told you about a no-fee residency visa opportunity that allows applicants to live in a tropical paradise and, oh by the way, can lead to some pretty sweet tax benefits? Again, probably not.
What about the opportunity to hedge dollar and political risk through a 100% legal offshore account, in a highly regulated jurisdiction, that Uncle Sam can't touch if ever he again decided (as he has done in the past) that confiscation is the only way to shore up the greenback? Probably not.
Thing is, I know all about those opportunities and so many more. They are my daily world, and my aim is to play to my strengths for your benefit.
I spent 17 years writing about money and investing for The Wall Street Journal. I've written 10 books on topics such as investing globally, personal finance, and working as a digital nomad. I've been to nearly 70 countries. I've opened bank and brokerage accounts in more than a dozen countries on five continents. I have worked as a trader and a hedge fund analyst. I even wrote a screenplay based on research I conducted in northeastern India that was optioned by a Hollywood producer.
As such, I'm the European-based international intelligence agent who knows how to move about the world to find and collect the information that can help you earn more and live a richer life.
We have come to one of those defining moments in history. The landscape is shifting. Rules, systems, institutions that we've all lived with for the entirety of our lives—they are changing. Some are being tweaked. Some are in the process of collapse.
I recognize it, because I see it all from a global perspective—an American living in Europe, who regularly travels the world, and who has the institutional knowledge that comes from researching and writing about all of this going back nearly 30 years.
In short: I'm the spy who's coming in from the cold to tell you what's really going on out there—and how to play it to your advantage. You'll get all the details in my Field Notes.
In the meantime, let's get you started with your free report: A Complete Guide on Protecting Yourself with Gold and Silver.

Jeff D. Opdyke
Editor, Field Notes / Global Intelligence Letter