Plus How I Plan to Make Money By Renting Out a Dragon
Welcome to your Sunday digest…my weekly breakdown of the things we're thinking about and talking about in the Global Intelligence world.
First up this week, the IRS just undermined the Federal Reserve's bogus claims about inflation.
This week, the U.S. tax agency announced that income tax thresholds and deduction levels will increase significantly in 2022.
For instance, the standard deduction for married couples is rising by 3.2% to $25,900 next year, while married couples will need to earn $20,000 more to enter the top tax bracket of 37%.
On average, the new thresholds equate to increases of about 3%. That's compared to around 1% in previous years.
The reason for these higher-than-usual increases: inflation.
There are a couple of takeaways from this story.
First, this is the IRS confirming that inflation is a real issue rather a "transitionary" problem, as Fed Chair Jerome Powell has been claiming for months.
If the IRS is changing income tax brackets this much, it's a surefire indication that inflation and consumer prices are not going to magically revert back to where they were. Higher prices are here to stay.
Second, these adjustments will do little to help American taxpayers.
As I noted in yesterday's missive, inflation on a year-over-year basis surged 6.2% in October, the highest reading since December 1990.
So, a mere 3% increase to the income tax brackets and people's deductibles is unjust, when inflation is currently running at twice that rate and is only going to further increase from here.
Moreover, due to rising inflation and worker shortages, my bet is that most employers are going to increase salaries by way more than 3% at the end of this year.
But if the average worker nabs a 5% or 6% salary increase, and tax brackets and deductibles only rise by 3%, that means we'll end up contributing more to Uncle Sam's coffers.
It's just another way we're forced to cover the tab for our debt-addled Uncle.

***
Next up…digital clothes.
You may recall that a while back, I brought you a column on virtual fashion—items of clothing that we will use to dress our online avatars—and how this emerging asset class is going to make some people very rich. (If you missed that column, you can check it out here.)
If you reacted to that column with incredulity, I don't blame you in the slightest. It can be hard to imagine a person paying hundreds or thousands of dollars for an item of clothing that doesn't actually exist.
And yet…the digital clothes arms race has already begun.
Recently, a virtual version of Gucci's Dionysus Bag with Bee handbag created for the gaming platform Roblox sold for $4,115. That's more than the bag costs in real life ($3,400). Nike, meanwhile, has recently announced it's designing virtual sneakers for avatars to don in whatever online world they flock to.
The demand for digital fashion will only soar from here, with some analysts predicting revenue from virtual worlds like Roblox could approach $400 billion within four years.
Avatars are going to be a huge part of our future, and we're going to dress them better than we dress ourselves.
Make of that what you will.
***
We end this week with a final note on crypto collectibles.
Last Sunday saw the minting of NFTs for something called CryptoDragons.
NFTs, or nonfungible tokens, are one-off cryptos that represent ownership of an asset. Right now, they typically signify ownership of digital assets, like a virtual artwork. "Minting" refers to the process in which new NFTs are created.
CryptoDragons is an upcoming project on the Ethereum network. It is billed as an online world where people will be able to breed, purchase, rent, and battle NFT dragons. And it's causing a huge amount of excitement.
How much excitement?
Well, in the minting last weekend, 500 CryptoDragon eggs were available for purchase. They sold out in five seconds and the most sought-after, a legendary egg, went for 35 ETH. At the time of the purchase, 35 Ethereum tokens were worth roughly $160,000. Both of those stats—five seconds and 35 Ethereum—set records.
I've been paying attention to this project for a while…not because I have any interest in the game, but because I like the idea of owning a digital asset that I use to create a passive income stream.
So, I decided to try and get one of these CryptoDragons so I can rent it out in the future. And somehow, I was successful.
I connected to the site at the exact second the minting went live, then connected my crypto wallet to the site and clicked "Reserve Egg"…and I got an egg for 0.2 ETH, or around $950. Frankly, I have no idea how I managed that, given how insanely quickly this project sold out.
But…here's my dragon egg. It's the blurry image at the bottom. I have no idea what it is since it hasn't "hatched" yet. That happens on Christmas Day.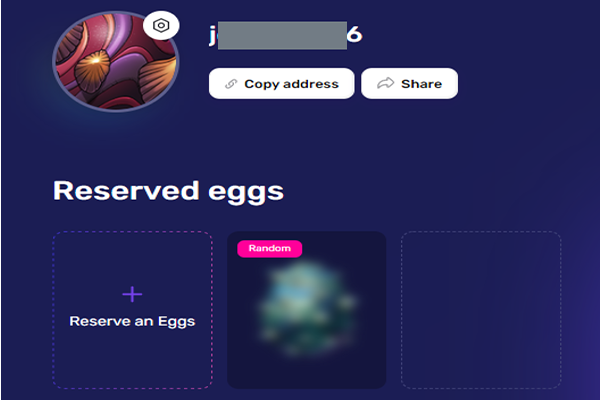 Again, as with the news item above, I completely understand if you find all of this insane. And I am by no means advising that you invest money in this space. This is the bleeding edge of a technological revolution. It's bizarre, chaotic, and the infrastructure is far from user-friendly.
But the same technology that allows you to buy and sell CryptoDragon eggs securely and without a middleman will one day, very soon, allow you to buy and sell everything from homes to concert tickets. (So much for Ticketmaster.)
I'm risking some capital so I'm on the inside of this revolution as it develops…and so I can bring you the best investment opportunities in this space long before you hear about them in the mainstream media.
That brings us to the end of this week's digest. Many thanks for being a subscriber. And if you have any feedback or questions, please reach out through the contact form on the Global Intelligence website. I'd love to hear from you.