Plus Fed Officials Want to Tighten the Money Tap
Welcome to your Sunday digest…my weekly breakdown of the things we're thinking about and talking about in the Global Intelligence world.
First up, New York is embracing the future.
Recently, we learned that the city's Department of Finance is partnering with a company called Medici Land Governance to test a system that can put the New York City land registry on the blockchain.
According to the company, the project aims to "develop a proof of concept for the use of blockchain technology to detect and reduce deed fraud in New York City."
DoF Commissioner Sherif Soliman said the system "has the potential to revamp how property documents are recorded in New York."
At this point, you may be wondering what in the heck all this means?
To start with, we need to understand blockchain.
Blockchain is the technology behind bitcoin and all other cryptocurrencies. Basically, it is a distributed ledger—a database that is spread across a vast network of computers.  
Because records are spread across a vast network, there's no way for Tom Cruise to mount a Mission Impossible-style heist to steal or alter the database.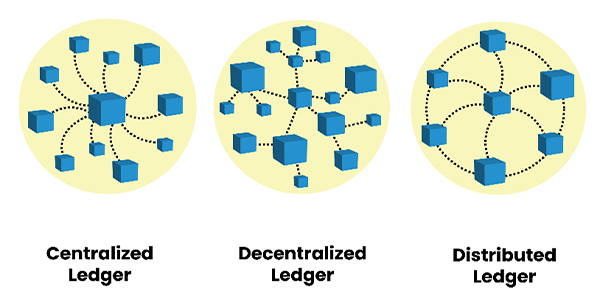 That's because there is no mainframe. No single secure facility where all the records are locked away.
Instead, the records are owned and maintained by hundreds or thousands of computers (or more) spread out across the internet. And crucially, all of these "nodes" must agree on the data for it to be considered valid.
For this reason, blockchains are essentially impossible to hack or alter. Plus, they tend to be far cheaper to operate than the more common centralized or decentralized computer ledgers.
Bitcoin has proven that this technology works. Bitcoin as a crypto has never been hacked, and zero counterfeit currency has ever been added to the network. (Some crypto exchanges have been hacked, but that has been due to fraud, human error, or badly designed internal company systems.)
Now, governments are realizing the power of blockchain and are starting to embrace it.
At present, New York uses its Automated City Register Information System, dating back to 1966, as the database for its title deeds. Under the blockchain project, Medici Land Governance will set up a parallel blockchain system that will simulate the recording of 500,000 records.
If the tests prove successful and the blockchain system is rolled out, it could lead to big savings for ordinary people.
Title searches are a standard part of buying a home, and can run up to $500 in New York City. Under the new system, these costs should fall.
The savings in title insurance would be even more significant. Currently, most banks won't finance home purchases unless the lender has a title insurance policy. Even buyers are advised to get one of these policies.
Once this data is on the blockchain, however, fraud should be virtually impossible, so these costs could simply disappear.
This is the power of blockchain. And it's why crypto is the future.
***
Also on the crypto front, the American Bankers' Association has issued a new report advising banks to partner up with crypto firms.
According to the report, this advice is based on strong client interest and the increased profitability of the crypto sector.
As if to emphasize this point, not long after the report was released, the largest crypto exchange in the U.S., Coinbase, reported higher-than-expected Q2 earnings of $2.23 billion.
I realize that I've been banging this drum somewhat incessantly, but crypto is here to stay and it's on the cusp of going mainstream.
The ABA is one of the largest financial industry trade groups in the U.S.
If it's advising members to jump aboard the crypto train, then it's just a matter of time before every Main Street bank and credit union is selling bitcoin and Ethereum over the counter.
My advice: Build your crypto portfolio now…before the rush. (As always, that's if and only if you can handle the inherent volatility in crypto.)
You can get my clear, step-by-step guides on investing in crypto, including which cryptos to buy and where and how to buy them, in the Crypto Intelligence Library available as part of your subscription to our monthly Global Intelligence Letter.
***
Finally, we're getting closer to a Wall Street "taper tantrum."
This week, two Federal Reserve officials—Kansas City Fed President Esther George and Dallas Fed President Robert Kaplan—said it's almost time for the Fed to curtail the easy money policies it introduced to support the economy during the pandemic.
Right now, the Fed is buying about $120 billion in Treasury and mortgage securities every single month. This deluge of cash is helping keep the market at irrational highs.
If and when the Fed tightens the money tap, Wall Street will definitely throw its toys out of the pram, in what's called a "taper tantrum," and we'll see a significant drop in the market.
This tapering by the Fed likely won't occur until October at least, since the Fed's next policy meeting is set for the end of September. In fact, it may not occur until after the Fed's subsequent meeting in November.
But when it happens, and it will eventually happen, the market will react. Get your portfolio protection measures, such as the gold and currency assets I recommended in the Global Intelligence Portfolio, in place before then.
That brings us to the end of this week's digest. Many thanks for being a subscriber. And if you have any feedback or questions, please reach out through the contact form on the Global Intelligence website here. I'd love to hear from you. Enjoy the rest of your Sunday.