Dear Field Notes reader,
Welcome to your weekly digest!
As I mentioned in the inaugural digest last Sunday, these missives are your glimpse into what we're thinking and talking about here at Global Intelligence.
These aren't complete stories or fully formed ideas, as with my Field Notes dispatches and the monthly Global Intelligence Letter. Rather they may be a summary or some updates on the stories from this week, or perhaps some tidbits from the news that captured my attention.
First up this week is a $69 million JPG.
If you aren't familiar with a JPG, it's a digital image format—a way of compressing a picture, usually so that it can be shared online. Check the photos on your laptop hard drive. Most of them are probably JPGs.
So basically, someone paid $69 million for a digital image.
The JPG in question is an artwork called Everydays—The First 5000 Days. It was created by a digital artist called Mike Winkelmann, who goes by Beeple, and it's a collage of the images he's been posting online daily since 2007.
What interests me about this story is not the artwork (though to be fair, some of the images in the collage are quite interesting), or even the fact that someone paid $69 million for it. What interests me is how the ownership was transferred.
I mean, it's a big question, right? How can someone own a piece of digital art, when anyone at any time can download the image off the internet and save it on their phone or laptop or whatever?
The answer is a non-fungible token, or NFT. These are cryptocurrencies, but unlike the major cryptos such as bitcoin, NFTs are unique, singular tokens. Only one of them exists.
Like bitcoin, however, ownership of them is recorded on the blockchain, which means that a secure network of computers provides proof of ownership and authenticity. So, when you buy an NFT, you have unhackable proof that you are the owner of this asset and that your version is the original. Plus, you can simply store your new asset in your cryptocurrency wallet.
NFTs solve a massive problem with the internet—how to prove ownership of digital assets. And they're already moving way beyond art. For instance, more and more music groups are releasing special edition albums as NFTs, as rock band The Kings of Leondid on Friday.
I'm going to be watching this space closely. In the meantime, the next time someone tells you cryptocurrencies are a fad or a scam, remind them that 255-year-old auction house Christie's sold a digital artwork for $69 million and offered to accept payment in Ethereum, the No. 2 crypto after bitcoin.
***
The U.S. is about to be sandwiched between two pot-dealers.
On Wednesday, Mexico took a huge step toward legalizing marijuana when the country's lower house of parliament passed a bill allowing adults to smoke marijuana and grow a small number of plants at home, with a license. The legislation also provides licenses for professional growers.
Fifteen U.S. states and Canada have already legalized recreational marijuana. (The number of U.S. states jumps to 36 when you include those that have legalized it for medical use.) With Mexico poised to follow suit, it seems to me that the federal government will have little choice but to make the drug legal nationwide.
While that's far from guaranteed, I can certainly see full nationwide legalization happening under the current administration. And even without full legalization, the legal U.S. cannabis industry is expected to grow by a compound annual rate of 21% up until 2025, pushing legal weed sales to an estimated $41.5 billion by mid-decade, according to a report from New Frontier Data.
That means that whatever your personal feeling on the subject, this will be a massive growth industry, with some strong investment opportunities. I've been keeping a close eye on this industry for some time and am zeroing in on some solid investment prospects. If everything pans out, I'll be bringing you a recommendation in an upcoming issue of the Global Intelligence Letter. Watch this space…


***
This week I got back to a little bit of travel writing, which let me tell you was a pleasure. I put together a piece about Montenegro for my colleagues over at International Living.
My then-fiancée, now-wife, Yuliya, and I visited the country for 10 days in December to tie the knot and I have to say it's a gorgeous place—well worth a visit for anyone interested in what is essentially northern Italian ambiance at lower prices. Plus, the wine is really good and is basically $2 for a healthy-sized glass.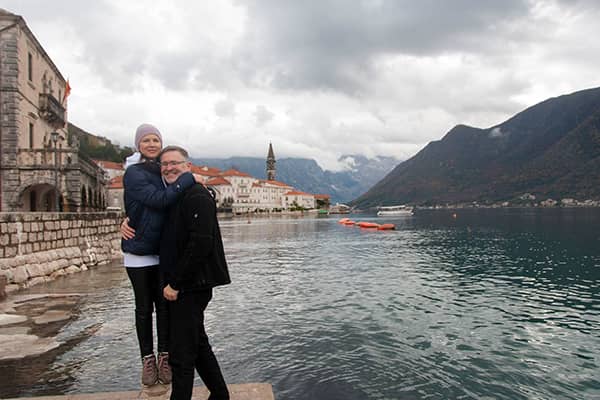 Writing the piece really crystalized how much I'm looking forward to getting my COVID vaccine, so I can exercise my nearly atrophied passport and gather fodder on stories I want to write this year for Global Intelligence.
For instance, I have a potential opportunity in the works that I'm dying to explore…a way for you to tap into some exciting income plays, and it involves Mauritius. (Don't worry, you don't have to travel there to take advantage, but I want to make sure it's legit before I share it with you.) I plan to bring you all the info in an upcoming issue of the Global Intelligence Letter.
***
Finally, my taxes.
Yep, I know that I'm been harping on about this a lot lately, but hey, it's tax season and honestly, I can't get over how much easier it is when you're an expat.
Back home, all my friends and family are stressing out over this clause and those receipts and that deduction. Meanwhile, I've already filed my taxes in my adopted homeland of the Czech Republic, and my U.S. taxes are all but done. I'm just waiting on one final document before popping them in the post for Uncle Sam.
If you're thinking about relocating overseas (or you've already made the move), and you want to learn more about how to make the most of the tax benefits of being an expat, I encourage you to check out Expat Taxes Made Easy: The Complete Guide to U.S. and Foreign Taxes for the American Overseas.
It was written by the experts at Bright!Tax U.S. Tax Services, and tells you everything you need to know about saving money and staying legal in a really clear, understandable way.