I am banned from Ukraine.
Like, I cannot set foot in the country.
Granted, it's my own fault. Was a total accident. But in the world of geopolitics, total accidents are apparently cardinal sins. Stick with me, there's a travel lesson in all of this.
It all started because I was dating a woman—now my wife—who was born and raised in Crimea. While we were dating a few years ago, I visited her in Crimea and was instantly smitten with the Black Sea peninsula. It's like the gods of topography took coastal California circa 1940s, Napa wine country, and a forested, mountain landscape, and smushed it all together into Crimea.
In short, it's a really beautiful, unspoiled corner of the world.
I've mentioned before that one of my favorite ways to earn a little extra cash is through travel writing. This field is as fun and rewarding as it sounds.
I naturally wanted to share my analysis of Crimea with other travelers because one of my favorite types of travel writing is exposing readers to places one rarely hears about in a positive context. As I noted in yesterday's dispatch, for instance, I was in Lebanon for a wine story, precisely because that country has a certain perception among many Americans, and I wanted to dispel some of that.
Similarly, I was in Northern Ireland just after The Troubles calmed so that I could write a travel story about golfing the way it's supposed to be—on a "links course" in County Antrim in the far north. And I was tooling around Myanmar just weeks after the country reopened to the West roughly a decade ago.
I want Americans to see the world as more than just a scary place filled with war and violence.
Same with Crimea, a region that fell under a veil of violence between Russia and Ukraine in 2014, and was in the Western press for all the wrong reasons.
When I visited, I was awed by the beauty of the place. So, I pitched a story to the travel section of one of America's largest newspapers. They loved the idea.
The story ran.
And Ukrainian embassy officials in the U.S. got pissed.
Which means the Ukrainian government got pissed and banned me from ever visiting Ukraine again.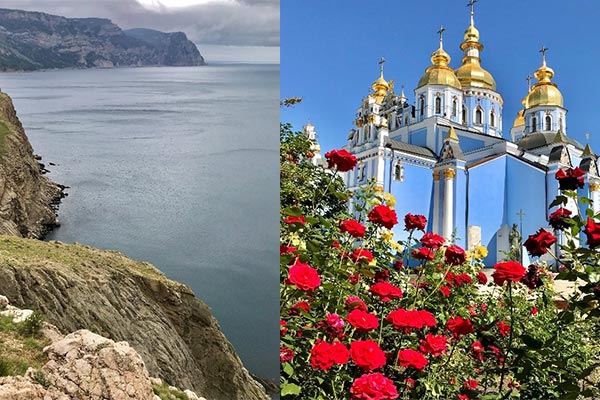 See, I traveled to Crimea by way of a connecting flight through Moscow.
Well, it turns out that there's a Ukrainian law declaring it illegal for anyone to visit Crimea by way of Russia. The only legit way onto the peninsula, according to Ukraine, is through Ukrainian territory, by land, and only with a special permit.
Totally my bad.
I had no clue such a law exists. I had no clue that I should even check to see if such a law exists.
I'm pretty sure no one outside of Ukrainians and maybe some folks working inside the U.N. know such a law exists. But exist it does…and because it exists, I am persona non grata in Ukraine since 2019, which is a shame because I know from previous trips to Kiev that Ukraine is an equally beautiful country that I would have liked to explore at greater length. Now, I will never have the chance to visit Lviv and Chernobyl, which have always been high on my list.
Thing is, when you have an American passport, you take a lot for granted. Not out of ignorance or arrogance, but through conditioning. I have traveled so much, to so many countries, for so many decades, I am on auto-pilot most of the time when it comes to logistics.
I reflexively know the countries that definitely demand a visa for Americans, or the ones very likely to demand a visa. I knew Russia did demand a visa (and I had one), and I knew based on my Google search that the only flights to Crimea were by way of Moscow, St. Petersburg, and a couple of other Russian cities.
Who thinks to Google, "Is it legal to visit X?"
And when you Google something like "flights from Prague to Crimea," it's not like a blinking marquee pops up to announce Ukraine's laws against traveling to Crimea by way of Moscow. I mean, if Uncle Google doesn't know…who does?
Aside from North Korea, the world is pretty much open anywhere you might want to go. And as an American traveler, you just sort of know that because, well, our passport has historically carried such privilege for the 50+ years I've been around.
But therein lies my lesson for you as the world reopens after more than a year in lockdown…
As you begin planning your trips—or, if you're an aspiring travel writer or travel photographer—spend a few minutes researching where you're going. Laws and rules have changed, and are changing by the day.
In fact, that's a big reason why the demand for travel writers is so high right now. On-the-ground reporting is more important than ever. Even in places like London or Paris. You don't want to get caught out on some technicality you didn't even know existed.