It's probably because I'm a 12-year-old trapped in the body of a 50-something man, but I kinda like this…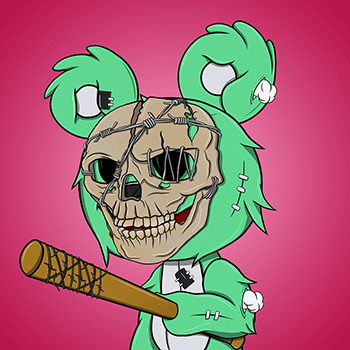 That is a degenerate Teddy Bear, part of a collection of non-fungible tokens from a project known as The Toy Store. I hope to get one because I like this kind of irreverent art. Plus, I kinda want a bear like this as my social media profile picture.
But let's stop here and back up a step or three.
In recent months, I've been introducing you to NFTs—the unique, one-off crypto that can represent ownership of anything from art to music to an asset/ticket that provides electronic entry to a website.
On several occasions, I've received emails from readers with some version of "That's great for you, goofball—but how do I do it, too?"
And that's a legitimate question. So, in yesterday's and today's columns, I am taking you through how to participate in the NFT world as an investor.
When we left off in Tuesday's missive, we were reading an NFT project's whitepaper and its roadmap to understand what a particular NFT is all about.
We pick up with what I think is the most important factor to consider when investing in NFTs:
What is the project's end goal?
A lot of NFT art exists just to exist. Nothing wrong with that. Some of it is quite valuable, particularly if it's from a well-known artist such as Beeple, whose NFTs sell for many millions of dollars.
But when you're just another cutely named, alliteration-based animal project, you get lost in the noise.
So, I want to be in projects where there is real utility.
Take the metaverse, for instance—a 3D space where the real world and the digital world meet in virtual reality. It's what the entire internet will become…it's where people will interact, shop, play, etc. as digital avatars.
Some NFT projects aim to create a metaverse, so that tells me the teams behind those projects have an idea for the future and they're trying to build a community, not just dumping more PFP (profile pictures) NFTs onto the market.
The NFT project Angomon, for instance, envisions a metaverse that will incorporate gameplay and hangouts for chatting (which, I think, are going to be hugely popular in the metaverse—the new, visual form of chatrooms and chat-apps, only we'll talk via avatars rather than type on keyboards).
Another reason to own an NFT is because of something it gives you…an NFT like the Shadowy Super Coder I mentioned yesterday is a good example. This one: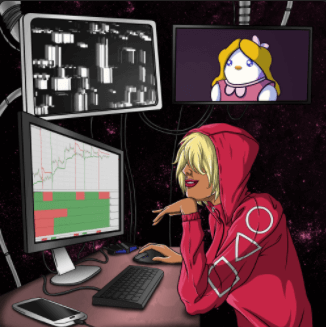 That NFT is set to give me 10,000 tokens over the course of 2022—27.40 a day, every day for a year.
Based on everything I know about the company behind this NFT and what it's doing to improve the Solana network (I know a lot about this company), I won't be surprised if the token value hits $5 or $10 quickly, meaning that little picture is spinning out $137 to $274 per day for the next year.
Oh, and if you hold the NFT for the full year, you get a 3,000-token bonus at the end of the year.
That's the kind of utility I want.

2. Where/how to buy
To buy NFTs, you will need a browser wallet—a crypto wallet that is an extension of your internet browser. I use Metamask for Ethereum transactions and Phantom wallet for Solana transactions. You can Google them. They are very easy to set up and use.
Once they are set up, make sure you have Ethereum in your Metamask wallet, or Solana in your Phantom wallet.
If you want to mint a new NFT, you will go to the minting site. You will find a link to this in the project's Discord channel or on its website. (Minting is the process by which new NFTs are created. When a new NFT project is launched, you can "mint" the NFTs it has to offer and be among the first owners.)
Connect your wallet and then follow the minting instructions (again, it will be easy and obvious).
Sometimes you have to be faster than a jackrabbit. Other times, not so much.
I minted a Portals metaverse access card. That project sold out 5,000 NFTs in under five seconds. With Shadowy Super Coder, the minting was open for several hours.
So, how fast an NFT sells out isn't always an indication of its popularity or future price.
If I get lucky enough to mint certain projects that I want to flip for a potential profit, I will go to one of the marketplaces (MagicEden.io, Solanart.io, Opensea.io, etc.) and I will connect my wallet and chose the NFT I want to list for sale. The Discord channel will announce on which secondary markets its NFTs are listed.
There, I look at what prevailing prices are and I set my price accordingly.
Tip: Most NFTs have a rarity to them, since each is different. Before I sell, I will often wait until rarity rankings come out. Several sites track projects, though not all rarity sites track every project. I use the websites Rarity.tools and Moonrank.app to assess the rarity of my NFTs.
If I have minted a rare NFT, then I know to list it for a much higher price. I don't want to quickly sell an NFT for 2 SOL if it turns out the rarity means it's worth 20 SOL. So, waiting for the rarity rankings to be released can pay off hugely. Sometimes the ranking appear quickly, sometimes it takes a few days.
Once you list your NFT and it sells, the Solana or Ethereum will automatically appear in your account.
And that's it.
That's how I find and research NFTs, and how I buy and flip some of them.
One last tip: Don't flip every NFT. As I pointed out with Shadowy Super Coder, some NFTs offer tremendous ongoing utility and value.